As a child, I was never a big fan of green peppers. Now as an adult, my taste buds have "come alive" and I'm open to new things. This recipe for Stuffed Green Peppers was conceived out of the boredom of traditional recipes that I have been consuming for years. Never did I expect my stuffed peppers to have such a heavenly and mouth watering taste! It's great on its own since you have a few of the key food groups stuffed into one delicious entree.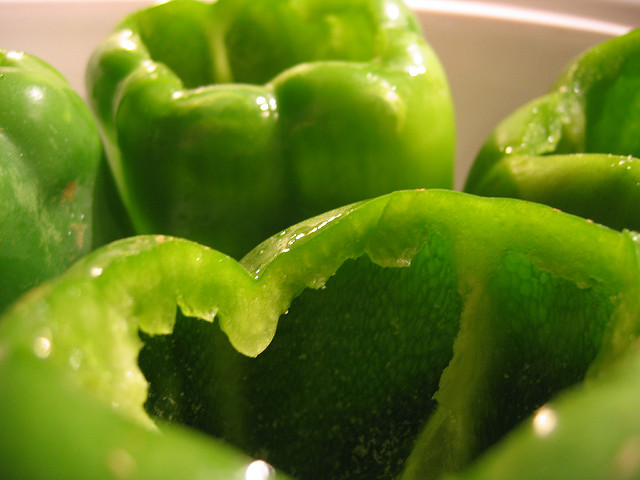 Keep in mind that you can replace the ground beef in this recipe with ground turkey or chicken for a healthier choice. For added flavor you can also put Italian sausage into the mixture. Don't worry — any leftovers of the mixture can be frozen for future use. This recipe will feed four adults, very well.
Ingredients
4 Large Whole Green Peppers
1lb Lean Ground Beef
1 8oz Can Tomato Sauce
1 Cup Cooked Brown Rice (white or wild rice can be used as well)
2-3 Cloves Finely Chopped Garlic
1 Medium Onion Finely Diced
1 Teaspoon Salt
1 Tablespoon Onion Powder
1 Tablespoon Oregano
Directions
Cut off the tops of your greens peppers about 1/4 inch down from the top to create a bowl and a lid. Carefully, remove the seeds and the rib from the inside. Be careful not to tear your peppers. Place the peppers aside. Preheat oven to 350.
Now in a large skillet on medium heat, brown ground beef and drain excess oil. Place heat on medium low and add chopped onions, oregano, salt and onion powder. Cover with lid and allow to cook until onions become translucent (approximately 3-4 minutes). Next add your chopped garlic and combine well with the mixture. Now add your cooked rice and tomato sauce and mix well. Taste mixture to ensure no added salt is needed. If so, add a little at a time. Remove from heat.
Now, get a large casserole dish. Begin filling your peppers with the mixture and fill to the top. Place the lid back onto the pepper and place in dish. Pour 1/4 cup of water in the bottom of the dish. This will help ensure that the bottom of your peppers will not burn. Place dish in oven on the middle rack and allow to bake for 25 minutes until done.
* Sprinkle some shredded mozzarella cheese on top of your stuffed green peppers to make it a true Italian meal!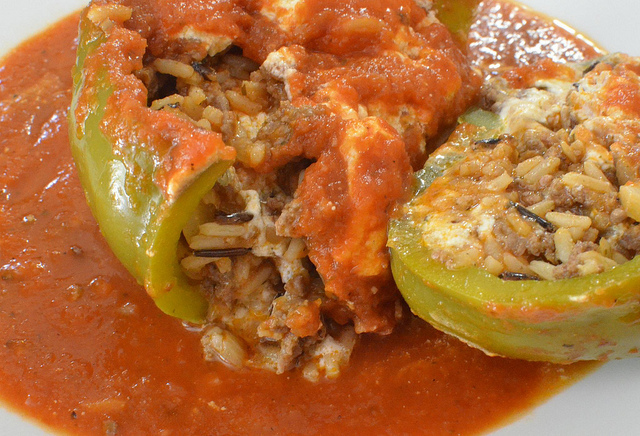 Posted by Eve
Images: Flickr/jeffreyww & Flickr/nate 
Did you enjoy reading Stuffed Green Peppers Recipe? Well we enjoyed having you and would like to be friends!
This post contains affiliate links.