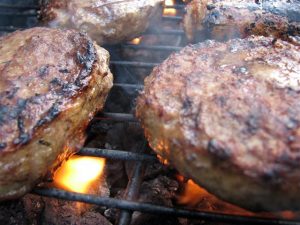 The more warm and sunny it gets outside, the more you, your family and friends are going to get excited about firing up the grill and barbecuing up a storm. But as exciting as it sounds in theory, bringing food outside can be a challenge due to the wide variety of bugs and flying insects that also want to party with you and have some of your delicious food. Here are some simple ideas for how to protect your food (and guests) from annoying insects.
Table Tent for Flies
As soon as the food hits the table outside, you're probably going to have to start contending with flies who want to try some. Flies are mostly harmless, but they are very unsanitary insects—they sit and feed on feces, dirt and dead carcasses—so you don't want them near your food. The best way to shield your food from flies is to get a couple of Pop-Up Mesh Screen Food Cover Tents. They're made of a light mesh material that the average fly can't penetrate and are super affordable (2 for about $10). Flies might still fly around the area, but you won't have to worry about them sitting on your fried chicken and potato salad.