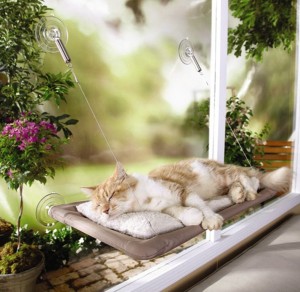 Looking for a fun present to give your kitty on her birthday or during the holidays? Here are 3 fun cat gifts that your pet will absolutely love.
Sunny Seat Window-Mounted Cat Bed
Does your kitty love to spend time in the window, sun bathing? A Window Mounted Cat Bed will quickly become his favorite place. It suctions to the window and keeps him suspended above the window sill. You know how much cats love to be in high vantage points — if you have multiple cats, get one for each window.