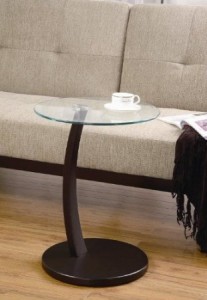 Every spring I like to spruce up my home by adding pops of color and new furniture that has sleek and useful designs. Just adding a new lamp, chair or table can completely change the look of your room. Here are a few key pieces that I believe will add class and style to any living room's decor.
Cappuccino Round Accent Table
I love the modern design of this
cappuccino table
.  It will fit in perfectly in a living room where you already have plenty of furniture.  It provides an extra table to place your laptop, iPad, coffee cup or book during hours of leisure.  You can even place the table in an open corner and adorn it with a lovely bouquet of flowers.
Cylinder Shaped Lamp
I really like the
cylinder shape
of this lamp because it is small enough to fit into any corner.  It is tall and sleek.  You can even add colored bulbs for a more interesting night time effect in your living room.  It's affordable enough to purchase two or three to position around your room.
Yellow Zig Zag (Charlie Brown) Throw Pillows
If you need a pop of color in your living room, try these yellow throw pillows. They're designed with an attractive
zig zag pattern
that looks similar to Charlie Brown's shirt! Yellow is the color of happiness, so if you want to brighten up the atmosphere these are a good choice.  You can even transition the pillows to your outdoor patio furniture and with the UV protection on the fabric, you don't have to worry about the fabric fading. Consider these simple ideas to spruce up your living room. The goal is to have a place where you can feel relaxed and joyful, and have everything at your fingertips.
Did you enjoy reading 3 Simple Ideas to Spruce Up Your Living Room? Well we enjoyed having you and would like to be friends!
This post contains affiliate links.