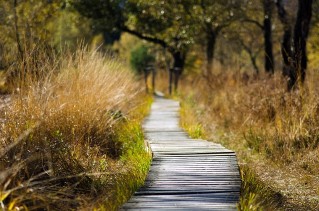 Eating rich, gourmet foods while watching your favorite shows on television seems like fun until you start to see the numbers ticking higher on your bathroom scale! A lot of people really do want to change their sedentary habits and lose weight, but getting motivated is the biggest obstacle to that goal. Here are a few tips for how to lose weight fast in fun and healthy ways.
Start Walking the Trails
Some people dread working out in gyms because it can be monotonous and boring. Going to the same place every day and looking at the same sights can be less than inspiring. If this is your issue, try walking the trails near where you live. Something about being outside in the serenity of nature gives you the energy and motivation to get healthier.  There's a good chance that there's a nature trail within 5 to 10 miles from your home where you can enjoy nature while walking off the pounds. Remember to bring your favorite music or an audiobook to listen to while you're taking in the sights.