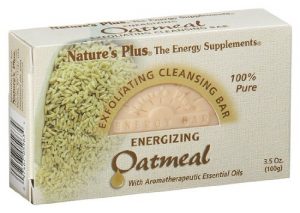 Having dry unhealthy skin is so unpleasant. Next to your smile, your skin is the first thing that people see when they meet you. One can spend a mini fortune buying expensive name brand skin items that don't even work as well as natural solutions. I decided to give three natural soaps a try: oatmeal, goat's milk and shea butter soap. Here is what I learned about each type of soap and my personal experience with each.
Oatmeal Soap
Benefits:   – helps with poison ivy and bug bites – moisturising effect on skin – helps clean skin by exfoliation – can help both dry and oily skin – helps with sunburn, rashes or pain – helps reduce signs of aging My personal experience with
oatmeal soap
: I only use this soap when I have a skin breakout (it's good for eczema symptoms) or a bug bite. It does a great job of soothing the area and reducing itching.
Goat's Milk Soap
Benefits: – high content of alpha-hydroxy acids like lactic acid which breaks down dead skin cells and leaves new cells behind – excellent moisturizer- soothes dry skin – contains vitamin D, C, B1, B12 & E – treats acne because of anti bacterial properties My personal experience with
goat's milk soap
: I was giving this soap by someone I love and trust who swears by it. It's extremely smooth, silky and milky as the name suggests. I've found it to be a good moisturizing soap that makes your skin smooth to the touch, and of course there are no harsh dyes or scents. I love the way it smells.
Shea Soap (raw)
Benefits: – does not strip essential oils from skin – disinfecting skin properties – contains unsaponifiable compounds – contains vitamins A, C & E – fights germs & bacteria – added bonus: shea butter also acts as a sunscreen My personal experience: while I haven't used
raw shea soap
just yet, I use
shea butter in its natural form
almost every day. This stuff is a great skin protectant and makes your skin supple (like butter). It can also help ease the irritation of rashes and eczema symptoms.
So Are Natural Soaps Right for You?
I really feel a difference in my skin when I use natural soaps. I hardly require any moisturizer on my skin after using them because they already have moisturizing properties built-in. If you're a person who struggles with very dry skin and other skin ailments, oatmeal soap, goat's milk soap or shea butter soap just might work better than your usual product. They may help ease your symptoms (just make sure that you're not allergic to the ingredients) and give you the soft, supple, clear, glowing skin you've always wanted.