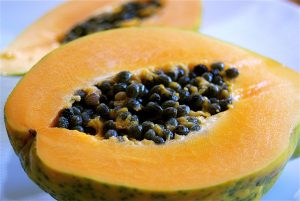 There are some awesome health benefits to adding the tropical fruit papaya to your daily diet.
Papaya, has a digestive enzyme called papain. Papain assists in the digestion and the fiber in the fruit also helps prevent constipation. It is recommended that you consume 4-5 servings a day.
Papaya also contains a high amount of vitamin C and therefore protects you against poly arthritis. It also contains vitamins A and E which aides your immune system to function at its best.
I also learned that papaya is an outstanding source of recommended daily fiber. It helps with weight loss because the fiber in the fruit makes you feel full and it is also low in calories. Also, the digestive enzyme, papain, increases your metabolism, digests fats and mimics carbohydrates in your body.
I purchase 2 large papayas from my local grocers, weekly. I generally first peel, cut the fruit in half and remove the seeds. I then slice the papaya into long slices and store them in a airtight container in my refrigerator. I either add them to my daily smoothie or eat some slices in the morning along with my breakfast. I even at times enjoy the fruit as an evening snack.