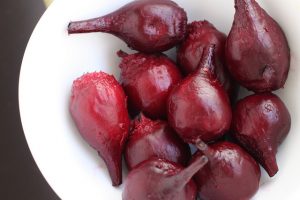 I recently discovered some health benefits of red beets. I learned that:
Red beets contain a chemical called betalains, that is said to kill cancer cells, according to a study named "Anti Cancer Agents In Medical Chemistry" written in March, 2011.
Red beets help improve athletic performance and lower the risk for heart disease. Since the chemical betalains is what causes the beet to be colored red it is said to be the most healthiest beet to consume.
Beets also, contain a high amount of fiber, so you feel more satisfied after consuming them.
I prefer to purchase organic raw red beets from my local grocer instead of the ones that are repackaged in a jar or can. I soon learned that i do not care for the taste of the raw uncooked red beets. So, I came up with the perfect solution! I simply put some beets into my daily smoothie that consists of kale, blueberries, strawberries and protein powder that I sweetened with a few drops of liquid stevia.
The size of your beets can vary, so you should use your own judgement as to how much to add to your smoothy. I generally, after purchasing my beets wash, peel and chop it into chunks. I then store the beets in an air tight container at the bottom of my refrigerator to stay fresh. I generally use 3-4 chunks per day in my smoothie. I don't find the flavor of the beet to be overwhelming. What I do believe, it that it gives the smoothy a earthy mellow flavor that is pleasing to my pallet.