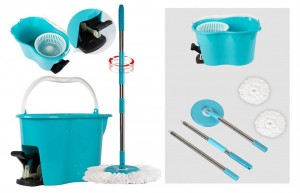 I am also open to cleaning products that will make my spring cleaning much easier.  I found some cool new products that were affordable and will help me keep my home smelling good and clean.  For the first time, I am looking for eco-friendly products and cleaning products that would not require a lot of effort to complete the job.
Rotating Spin Twist Hurricane Spinning and Shout Mop
With each passing year, it seems more difficult to clean my floors on my hands and knees.  I am thankful that there are floor cleaning systems like this
Rotating Spin Twist Mop
that I can use, that don't require me to clean like I'm living in the 1800s!  Instead of manually cleaning the mop with your hands, you just put it in the tub and press the pedal to spin away the dirty water and start again. This
spinning mop
will cut your spring cleaning time in half.
Slipper Genie Microfiber Cleaning Slippers
I really like the idea of this
micro fiber cleaning slipper
.  When I just want to tidy up my bathroom floor in a hurry, I'll put a few Lysol wipes on the floor and use my own slippers to clean the floor instead of bending over. It works like a charm. These
Slipper Genie Cleaning Slippers
pretty much have the same idea in mind. They're also useful for corners that your broom or mop are unable to reach. They are machine washable and come in a variety of attractive colors.
Mrs. Meyer's Clean Day All Purpose Cleaner, Lavender
This
lavender all-purpose cleaner
is great for cleaning your entire house.  The scent of lavender has always been known to be a soothing scent — it fills your rooms and gives you a sense of peace during and after cleaning.  This product is eco-friendly and sold in a concentrated form.  Just add about a 1/4 cup to a gallon of warm water or a few capfuls to a water bottle. Amazon offers a better price if you purchase a
set of two bottles
— that should last you all season. If you want your spring cleaning made easy this year, check out these three great products. They're sure to make your cleaning experience quicker and more pleasant.
Did you enjoy reading Spring Cleaning Made Easy: 3 Must-Have Items? Well we enjoyed having you and would like to be friends!
This post contains affiliate links.