I learned the song Itsy Bitsy Spider when I was in the 3rd grade. I loved singing it and sill remember all of the hand signals that go with it.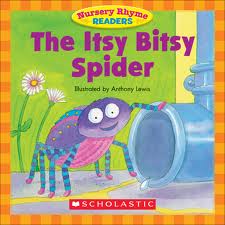 I can't believe it took this long to realize I was singing one of my very first motivational songs. It's a song for children about perseverance — it's telling them to never give up.
The Itsy Bitsy Spider Went Up the Water Spout
You're happily going about your business, making your way along your path, living your life.
Down Came the Rain and Washed the Spider Out
A trial, challenge, obstacle or tragedy happens in your life that brings you down. You're devastated because it feels like all of your hard work has been erased or is meaningless.
Out Came the Sun and Dried Up All the Rain
Despite our challenges, there always seems to be a ray of light that eventually appears when we hold on and stay strong.
And the Itsy Bitsy Spider Went Up the Spout Again
We fall down, but we get up. Despite what the spider has been through in this little story, she still gets back up on that spout and starts climbing again.
It's never hopeless — don't let anything or anyone stop you from pursuing your goals in life.
Posted by: Jasmine
Did you enjoy reading The Itsy Bitsy Spider Is a Motivational Song? Well we enjoyed having you and would like to be friends!
This post contains affiliate links.