When you move into a home that has been around for over 30 years, it's normal for it to have some features that look dated. If you take a closer look, you'll find that there are probably a few specific things around the house that are making the home look old-fashioned. Here are a few things to look out for if you want to modernize your home. You can overcome some of these issues yourself—just add them to your do-it-yourself project list.
Old-School Kitchen Cabinets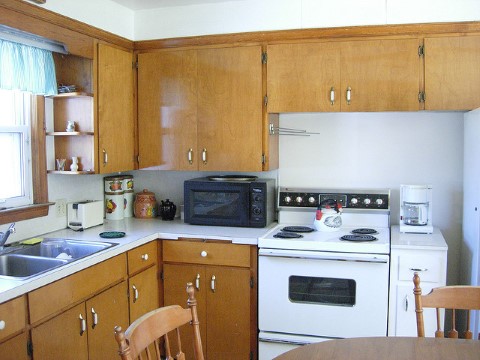 Image: Flickr/lisa_yarost 
One of the first places to check for dated features in your home is the kitchen. Worn down cabinets with frayed edges that are made of plywood or an inferior grade of wood should be replaced if you want the home to look more modern. You don't have to do an entire kitchen remodel to rectify this problem—just update the cabinets for now.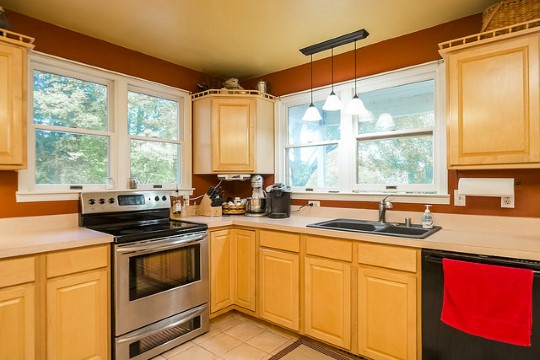 Image: Flickr/frederickhomesforsale 
Peeling, Chipped Paint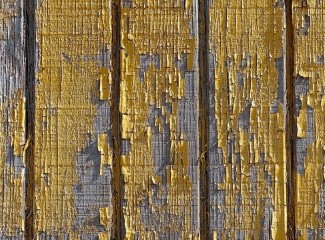 '
Image: Flickr/deanhochman 
After years of adding new layers of paint to your walls and ceilings, eventually the paint will begin to chip. Chipped away paint will make your rooms look old and unfinished. Peeling paint on the exterior of a home is also a sign of an aging home. You'll either need to sand down the chipped areas and repaint them or completely remove the paint from your surface and start anew. However, keep in mind that older homes may contain paint that was made with lead, so it's not always advisable to sand layers of paint for health reasons.
Old-Fashioned Wallpaper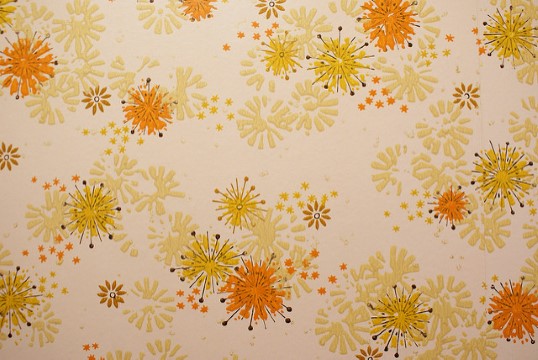 Photo: Flickr/9979792@N04 
Designer wallpaper can be a beautiful addition to a room, but keeping old-fashioned, floral wallpaper in a room, especially the kitchen, will make it look outmoded. This is especially true if the wallpaper has browned or looks dirty. Clean, smooth, painted walls will instantly make a room look more modern. If you insist on wallpaper, choose bold prints that have a clearly defined solid background color. Here is how the rooms in a more modern home look (bright colors, painted, clean):

Photo: Flickr/strocel 
Unfinished or Painted Wood Floors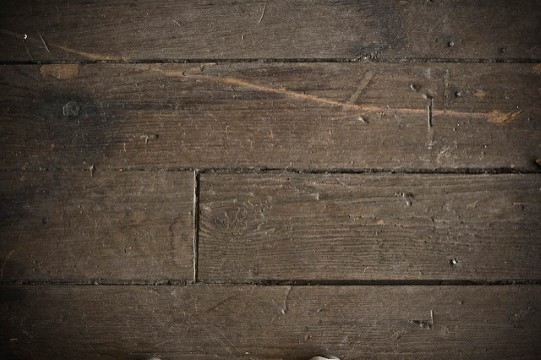 Photo: Flickr/ninjanna 
One common trait of older homes is unfinished wood floors. To make them look more attractive, homeowners of the past often painted them. Sanding the floors, staining them, and finishing them with a polyurethane coating will help bring old wood floors up to date. If the floor boards are beyond repair, laminate wood flooring will cover up the problem.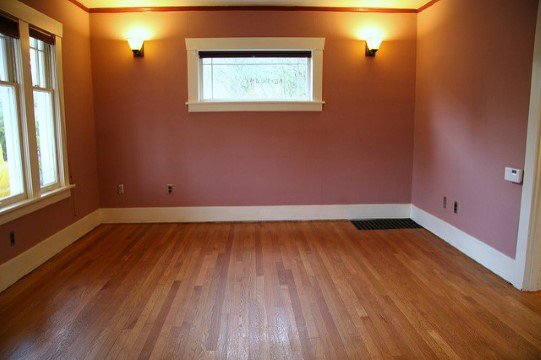 Photo: Flickr/shawnhenning 
Air Conditioners Hanging Out of Windows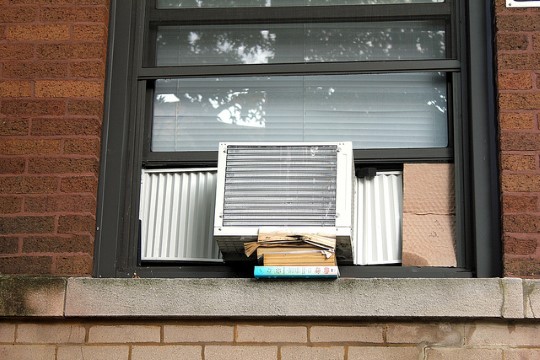 Photo: Flickr/quinndombrowski 
Nothing makes the exterior of a home look dated quite like multiple air conditioners hanging out of the windows. Over time, the back of air conditioners become dirty and start to drip fluids. If you want your home to look and feel more modern, invest in a cooling system that will manage the temperature throughout your house from one central unit. For a more affordable fix, place portable ACs in your rooms–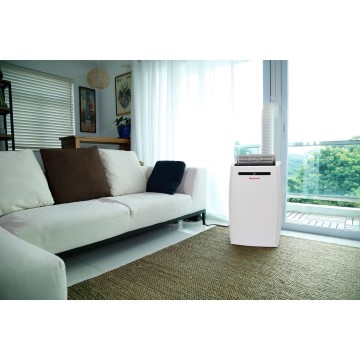 Image courtesy of Amazon
Aging Wooden Window Frames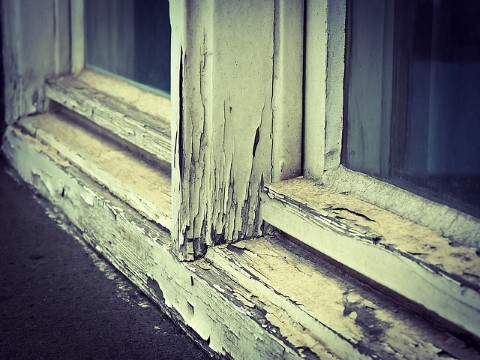 Image courtesy of Pixabay 
In the past, the standard for homes was wooden window frames. The frames were crudely nailed together and mounted with glass panes. Over time these frames begin to chip, crack, and allow drafts to come into the home. One easy way to update a dated home is to have the windows upgraded to vinyl. Vinyl replacement windows are the new standard for homes and they are relatively easy to install.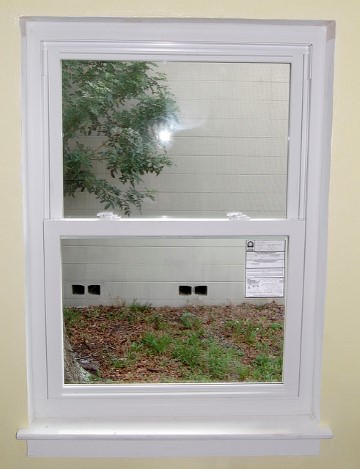 Photo: Flickr/cjscott69 
Popcorn Ceilings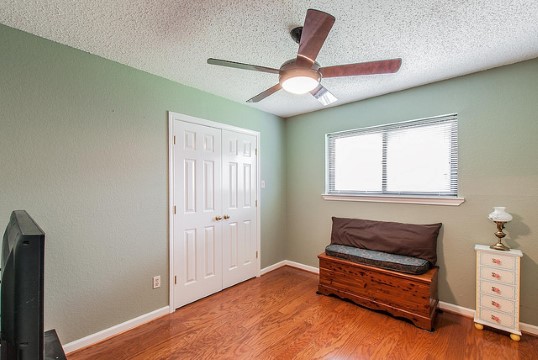 Photo: Flickr/96831183@N08 
A mildly textured ceiling can be attractive, but a "popcorn" texture should be avoided if you want your rooms to look modern. Popcorn ceilings have a bumpy, pilled surface. This texture was popular in homes built as early as the 1930s. Not only do they make the room look older, they can also make it look smaller and feel less comfortable. Remove the texture and paint your ceilings with a high gloss paint for a more modern look.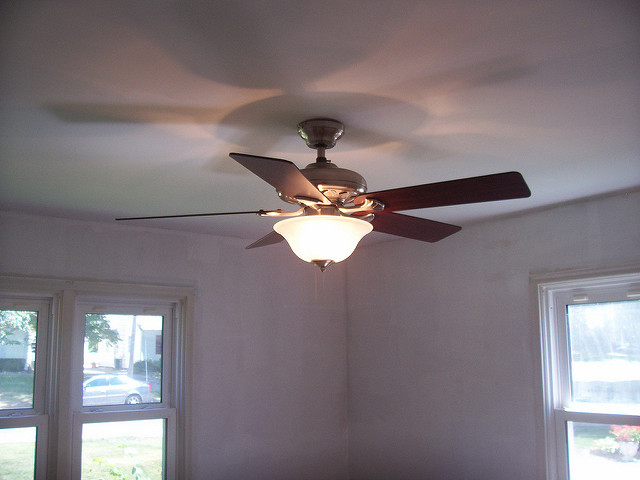 Photo: Flickr/mufan96 
Linoleum Flooring in the Kitchen or Bathroom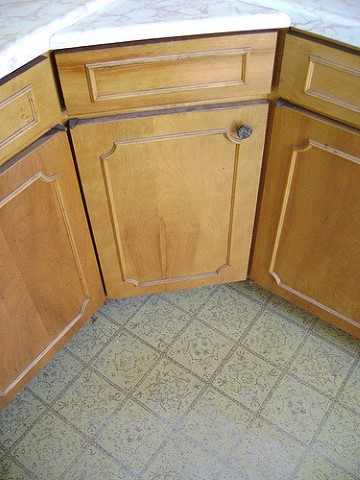 Photo: Flickr/vvasquez 
Linoleum flooring is easy to install and relatively attractive, which is why so many homeowners opt for it. But some of the patterns can make a kitchen or bathroom look older than it really is. Also, over time linoleum will begin to peel around the edges of the room and get scratched or scuffed by foot traffic. For a more modern kitchen, go for durable stone tile or laminate flooring.
Dated Lighting Fixtures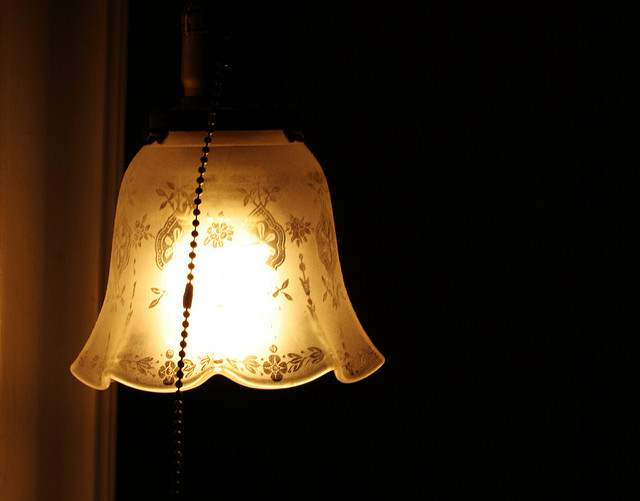 Photo: Flickr/clairity 
Antique, old-fashioned lighting fixtures around your home can make it look dated. This includes milk glass globes and ceramic flush mount ceiling fixtures. Replacing fixtures, which sometimes takes just a few minutes, can significantly modernize your rooms. Opt for brass wall sconces, recessed lights, and hanging pendant lights.  Use stylish lamps in bedrooms and living areas. Also, consider installing track lights in rooms where you often entertain guests. Here's an idea for a more modern light fixture: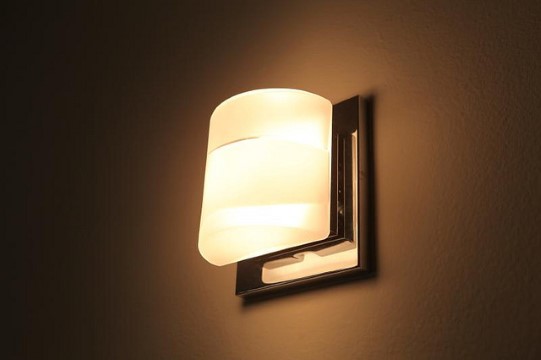 Photo: Flickr/chiropractic 
Doors and Doorknobs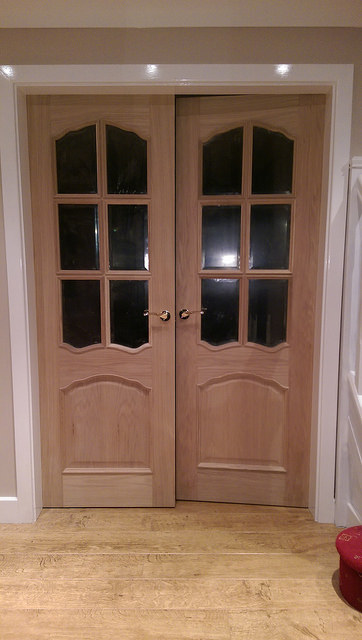 Photo: Flickr/budda 
A clear sign of an older house is the quality, material, and design of the doors throughout. Consider replacing a single door with double doors where appropriate. Go for a solid wood or brightly painted door over fiberglass, steel, or aluminum. Replace plain wood slab doors with hand-crafted doors. You can also upgrade a door by simply changing the doorknob. Levers and key-entry locks are preferable to standard knob styles if you want a more modern looking home.
Once you take care of these issues that may be making your home look dated, you'll probably have more of an eye for how to modernize your home. Time to get to work!
Did you enjoy reading Things That Are Making Your Home Look Dated (And How to Update Them)? Well we enjoyed having you and would like to be friends!
This post contains affiliate links.