Cats pretty much groom themselves, but there are some ways that you can help your kitty get clean if needed.
Wash Him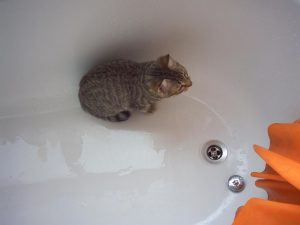 The first step to groom a cat, especially if he is new, is to give him a bath. There is much debate over whether cats ever need baths at all. In my opinion, they need baths once in a blue moon. Bring him into the bathroom and lock the door. Your cat will probably start to look at you out of the corner of his eyes at this point, so you've got to act quickly. Put a bottle of cat shampoo on the tub and turn on the water. Put kitty in the tub and slowly wet him with your shower nozzle. If he doesn't like it, just put a little bowl of water next to him in the tub and cup water over him. Soap him up, rinse him off, and then wrap him up in a snuggly warm towel (they love this part).
Luckily, cat's don't need baths as often as dogs do, because they self-groom, but from time to time for whatever reason your cat may start to smell a little too much like the litter box. So in this case, before you continue to groom your cat, wash him up.
Comb Him
There are several cat combs on the market that are perfect for grooming your cat, like the FURminator comb (very good for getting out excess hair). Grab a plastic bag to hold the hair that you will pull from his coat. Pull the comb with the grain of your cat's coat. Cat's don't always like it when you go against the grain, because the comb pulls at the hairs too roughly. Spend at least five to ten minutes grooming your cat with the comb, pulling out the clumps of hair. Then use your fingers to pull off the excess strands.
Brush Him to Help Make His Coat Shiny
Once you finish combing your cat, go over him a few times with a cat brush. This will help to smooth his coat to a beautiful shine. Use a soft bristled brush for cats for this purpose.
Sometimes when you groom a cat, you'll notice that he has matted down hair. In this case, buy a hard bristled cat brush and use it to before the cat comb.
Posted by Jade
Did you enjoy reading Tips for How to Groom a Cat? Well we enjoyed having you and would like to be friends!
This post contains affiliate links.