It's estimated that you can burn as many as 450 calories per hour while doing yard work.Think about that the next time the grass needs trimming or the garden needs some tending!
How awesome is it that you can burn calories while beautifying your property. Here are a few ways to turn common yard work duties into an intense full body workout.
Preparing for Your Yard Workout
Before you begin any exercise it is of the utmost importance that you are well hydrated before, during and after the activity. You should also consume a well-balanced meal a couple of hours before beginning. It's also important to stretch your legs, back and arms before getting started. If you have health concerns, consult a doctor before beginning any new health regimen.
Raking the Yard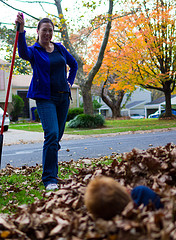 One common outdoor chore is raking the yard when it's full of leaves. Stand with your feet a little more than shoulder width apart while maintaining good posture. Use long sweeping motions to gather debris with the rake, and as you stretch forward bend your knees and engage your core. Make sure that you alternate sweeping motions from left, right and front. Do this at a pace that will raise your heart rate. These motions also force you to engage your legs, back and arms. Make small piles of debris and move onto the next area.
When all the piles are completed, it's time to throw the debris into the trash bin. Do squats. With your feet shoulder width apart, stand over the pile of debris, do a power squat down as low as you can go, grab debris with both hands, lift your body up and throw the leaves into the bin. Repeat these steps for all piles (take a break if needed).
Tidying the Yard
Even if it's not the fall season, you probably have debris on your property that accumulates throughout the week, such as papers, branches and sticks. Every time you find something new, do five jumping jacks or 10 standing leg lifts (put your hands on your hips and alternate lifting your legs forward or to either side). When you're done doing your reps, bend at the knees to pick up the debris.
Mowing the Lawn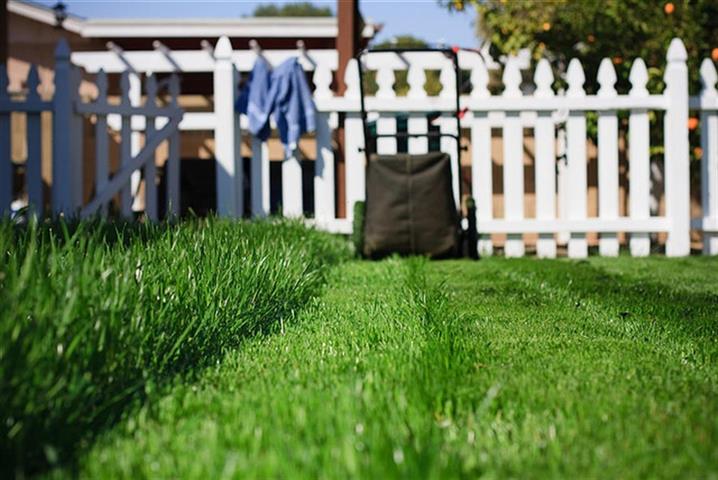 Most modern day stand up mowers are self-propelled, meaning there is no need to actually push the mower (it goes on its own; you just guide it). Turn off the self-propelling feature so that you'll be forced to actually push the mower for a period of time. You can always turn it back on if you get tired. Mowing the lawn using your own power will raise your heart rate and make you burn calories. Remember: it's important that you periodically take breaks and rehydrate with either cold water or a sports drink that contains electrolytes.
It's totally possible to get a great full body workout when doing yard work. When you think about your chores in this way, they are less daunting and go by faster. While doing your yard workout,  concentrate on your breathing, good posture and hydration.
Have fun losing those pesky pounds!!
Posted by Eve
Photo credits: Flickr/donhomer, Flickr/seanhobson
Did you enjoy reading Yard Workout: Burn Calories Doing Yard Work? Well we enjoyed having you and would like to be friends!
This post contains affiliate links.