I am very protective over my cat babies — I feed them high quality grain-free food, give them the same spring water that I drink, and shower them with love each day to let them know they matter. As much as I care for them, I need a vacation every now and then and I certainly can't bring them all with me on a plane to Florida! Recently I went on a planned family trip and before I went, I decided to order an automatic timed cat feeder from Amazon. This is what it looks like: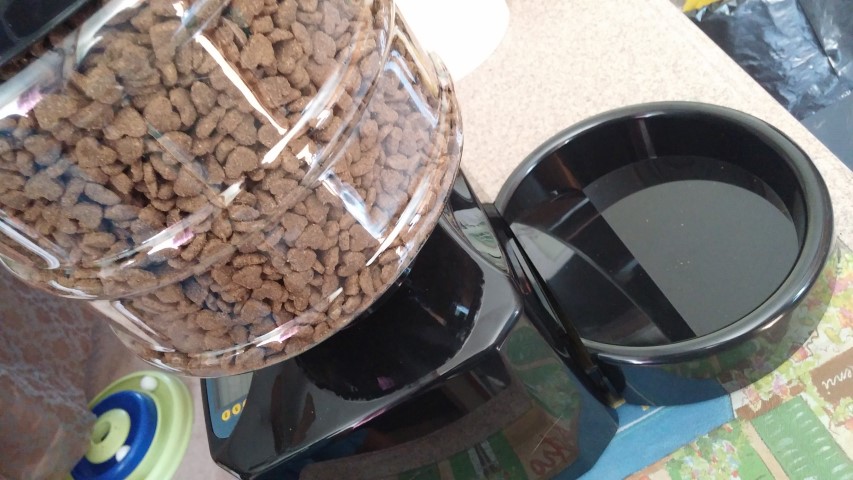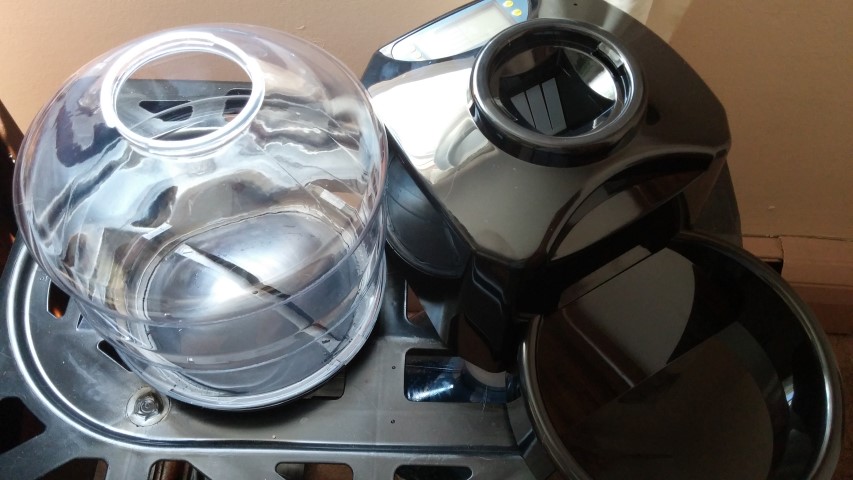 I already purchased the same automatic cat feeder in the past for the outdoor cats I feed. It works beautifully in my experience. You can set the time of day that the food will be released as well as amount of food. Here are a few of the setting options:
Just Breakfast (AM times available)
Breakfast & Dinner (AM or PM time available)
Breakfast, Lunch and Dinner
Choose between 1-11 portions per meal (1/4 cup is a portion)
As you can see, these choices are ideal because you can adjust them depending on how many cat babies you have and how often you want them to eat throughout the day. It's also ideal if you have an overweight cat that you want to teach portion control. The bowl holds 5.5 liters of food and keeps the kibbles fresh.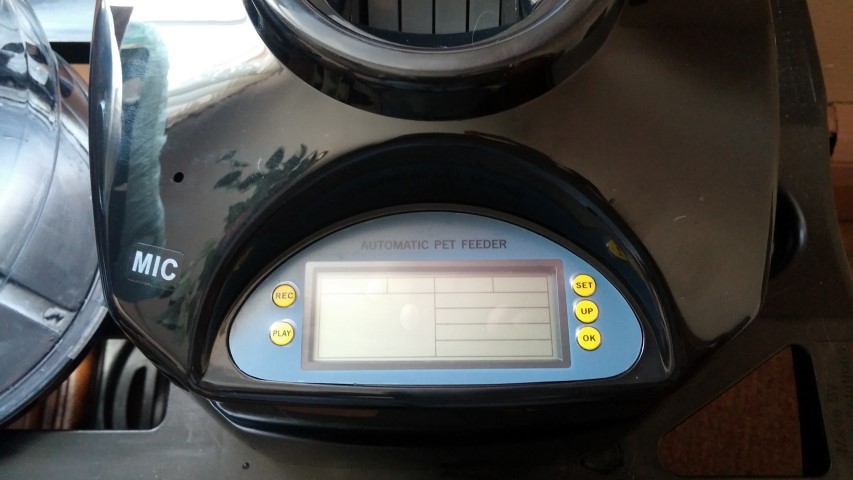 Just in Time for Vacation!
So I purchased another one to automatically feed the cats during this year's family trip. I filled it up to the top with food and loaded it with 3 D batteries (make sure you get top quality, fresh D batteries like Energizer or Duracell batteries because if you get cheap ones and they conk out, the food won't come out).
So after everything was loaded up, I added the settings I wanted. First, you have to put the current time, then decided what times of day you want the food to come out (breakfast, breakfast and dinner, or breakfast, lunch and dinner). Next you'll be asked for the portions for each of those meal times. I set it for about 1-2 portions per cat, per meal.
The best feature of this automatic timed cat feeder is the recorder! You have the option to add a short recording to play every time food goes into the bowl. The message will play three times, calling your kitty to come eat. Click this link or the photo below to see a short video of how the automatic message for the cat feeder works.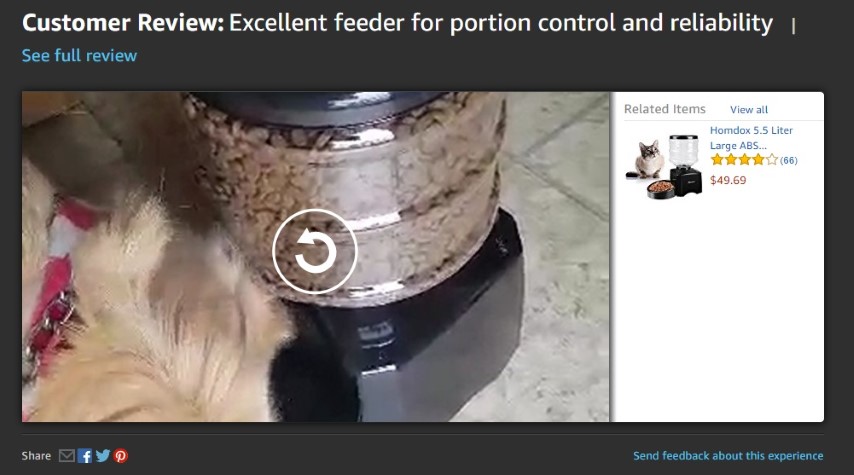 When you're on vacation for a period of time, your cat (or dog) is going to love hearing your voice two or three times per day. It's a way to comfort and reassure them while you're away.
So once you've got your food loaded, the brand new batteries are in, and the settings are set, just wait until the next meal time to see how it works. Every cat is different, but I would say that this 5.5 liter container will feed five cats more than comfortably for a number of days.
A Few More Thoughts…
I don't advocate leaving your pets alone for a long period of time, but cats in particular are usually very independent animals. If you do have to go away for a number of days without your cats in tow, make sure they have plenty of food, multiple options for clean water and a temperate environment. This feeder is very helpful and convenient, but it's always a good idea to have a backup tray of food on the floor — just in case. I loaded up a large aluminum pan with kibbles in addition to the feeder and that was more than sufficient.
Stay tuned for my upcoming post: a comprehensive list of all of the items you should have on hand if you plan to go away for a number of days without your cats (that list includes this convenient automatic timed cat feeder with timer).
Posted by Jade
Did you enjoy reading Automatic Timed Cat Feeder that Talks to Your Pets: A Must for Vacations? Well we enjoyed having you and would like to be friends!
This post contains affiliate links.