Recently I successfully completed my first TNR which is short for Trap Neuter Return. You trap a feral cat, get him neutered (or spayed for a female) and then return him to the Great Outdoors. It is beneficial to the cat, the kittens it wouldn't be able to support on its own and the neighborhood as a whole. Knowing how simple the process is now, I wish I would have done this years ago.
I remember calling the local animal shelter to ask about how I can get a trap to set outside. They said all the traps were being used but they could put me on a list. I'm still waiting for them to call me back about that list.
I had a "duh" moment when I realized recently that animal traps can be purchased online for like $40 and you can use them over and over. Why didn't they just tell me that??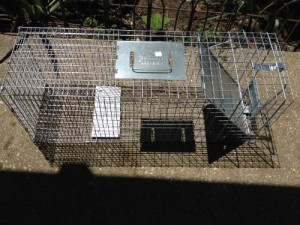 * Side note: these can also be used to trap raccoons, possums, squirrels and other pests. Pest control companies will charge $150+ to set the trap and then another fee to remove the raccoon or possum. Just buy the trap, catch the pest and pay someone for the pest removal.
Setting the Trap
I got the cat trap in the mail and soon learned how easy it was to set. The mechanism of the trap causes it to close as soon as the cat steps on a certain spot near the back. To set it you push up the door and hook a small lever into a latch. It is easy once you play around with it and give it a try, but be careful when putting the bait food at the back because it's rigged to snap closed quickly.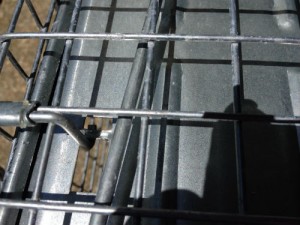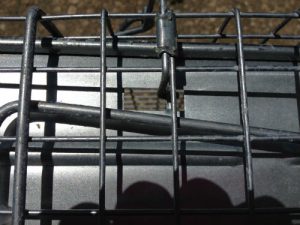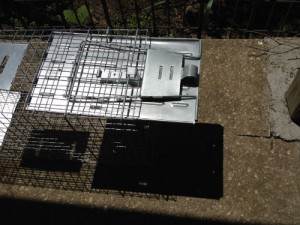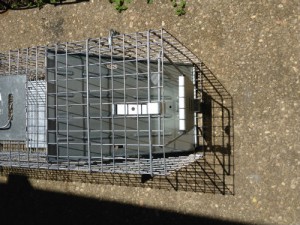 The Bait
You have to choose your bait wisely when trying to trap cats because they are very smart and crafty. If the cat is very hungry he will probably walk into the trap no matter what kind of food is in there. A plain old can of wet cat food will do.
But if you have a cat that won't willingly go, you have to offer some irresistible bait like tuna or sardines. It has to be very smelly to attract their attention. Leave a trail of the food leading into the trap if necessary.
When the Cat is Caught
The cat is going to freak out for a while after getting stuck in the trap. It's best not to even watch because you might be tempted to let him go. Once you let him go there's a slim chance he'll ever fall for it again!
After about an hour, he will calm down and sit. Cover the trap with a burlap sack or blanket to keep him calm until you take him to the vet. I had to leave this one in there, covered, overnight.
The Vet Visit
Find a TNR vet in your area. They usually offer affordable spaying and neutering for feral cats. The one I found charges about $60 per cat (including shots). You'll probably need to drop the cat off at a certain time and pick him up later. TNR programs know how to deal with feral/wild cats that aren't used to being handled.
When I dropped off the feral cat I trapped the lady explained that older cats don't always wake up from the surgery and that I had to sign a release. I was a bit sentimental, having known this particular feral for years, but I knew that it was necessary.
Thankfully this cat made it through just fine. They gave me a sheet full of instructions and his rabies shot credentials to take home. I waited another 24 hours, giving him a comfortable spot next to the house (the weather was warm) to sleep overnight, and then released him in the afternoon. He shot out of the cage, looked back at me for a moment, and then disappeared somewhere.
I smiled. Mission accomplished!
Posted by: Jasmine
Did you enjoy reading My First Trap, Neuter, Return TNR Experience (Advice, Tips and Pics Included)? Well we enjoyed having you and would like to be friends!
This post contains affiliate links.