I love my cats and want them to have the best when it comes to both food and water. Since I drink filtered water, I prefer to give my cats the same. A friend told me about the PetSafe Drinkwell Stainless Multi-Pet Fountain, which dispenses water to pets like a drinking fountain. Here is my quick review of this water fountain for cats.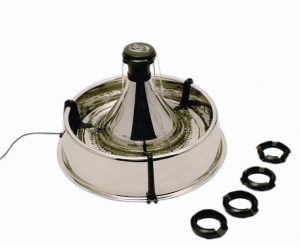 Benefits
– made of stainless steel (no toxic plastic carcinogens)
– holds 1 gallon of water that is filtered, making the water taste great
– multiple cats can drink water at the same time
– ability to adjust the flow of water
– ability to choose different streams
– replaceable filters (foam & carbon filters)
– water pump is fairly quiet
Setting up this fountain is the only downside. It takes some time to assemble the various pieces properly, but once you do it's pretty easy to figure out in the future. You also have to locate the fountain in a place where it can be plugged into the wall.
But all that aside, the cats love it. After setting the cat water fountain down, I noticed that they were extremely attracted to the streaming water. They then began to luxuriate near the water, sipping for longer periods of time. One of my cats loves to jump on the bathroom counter and sip water out of the spigot, so he particularly loves this contraption.
The clean up and reassembly of this pet water fountain is worthwhile when I consider how much cats love it, but I admit that there are times I take a break and just use the regular water bowl.
So if you are a cat parent that only buys the best cat food, why not provide them with the best water possible and a new fun experience at the same time. I give the PetSafe Drinkwell Stainless Multi-Pet Fountain 4 stars out of 5.
Posted by Jasmine
Did you enjoy reading Review: Drinkwell Cat Water Fountain by Petsafe? Well we enjoyed having you and would like to be friends!
This post contains affiliate links.