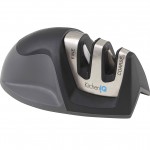 Having the right kitchen appliances are key to preparing meals successfully and beautifully. They should also add to your decor and be very functional.
I knew that Amazon would have a great selection of modern appliances to choose from, so I decided to do some browsing to see some of the latest products available. Here are 3 appliances that caught my eye—they will add style to your kitchen and assist you in preparing meals a lot easier.
Keep it Sharp
One of the most time consuming tasks that you have to accomplish when cooking is to chop up your vegetables and meats. The key to making this job quicker is to ensure that your knife is nice and sharp. The KitchenIQ 50009 Edge Grip 2 Stage Knife Sharpener efficiently and quickly sharpens your existing knives so that you'll make quick work of your fruits, veggies and meat. And it's under 7 bucks, worth every penny.