This Beef and Potato Casserole recipe is an amazing one pot meal. It has just a few ingredients and is simple to make. It is a flavorful dish that is also very satisfying/filling. This recipe will create 4 servings. OK, enough chit chat — let's get started!!!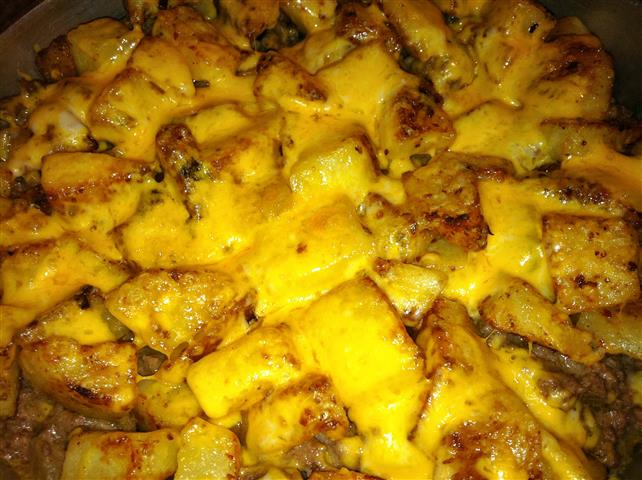 Ingredients
1 lb lean ground beef
3 medium to large potatoes diced
1 large onion finely diced
1/2 large green pepper finely chopped
1 can of cream of chicken (or mushroom soup)
1 cup of cheddar cheese (mozzarella is ok as a substitute)
Salt & pepper to taste
3 teaspoons onion powder
3 teaspoons garlic powder
1-2 teaspoons rosemary (dried)
1-2 tablespoons of oil
Instructions
Peel and dice potatoes. Place in a large bowl. Season with garlic powder, onion powder, rosemary, salt and pepper. Mix well, then coat potatoes with 1-2 tablespoons of oil. Placed oiled potatoes, in a pan, on medium high heat. Evenly spread potatoes, in pan and brown on all sides. Remove pan roasted potatoes from pan. Now, add ground beef, onions and peppers. Sauté until brown. Make sure to break up any chunks of meat. Lower heat and add cream of chicken. Combine well. Now, in a baking dish spread out meat mixture evenly. Then cover meat with seasoned potatoes. Top with the cheese of your choice. Like cheddar or mozzarella cheese. Bake at 350* until cheese is completely melted. Enjoy this Beef and Potato Casserole with a nice garden salad on the side.
Happy Eating!!!!!
Posted by Eve
Did you enjoy reading Beef and Potato Casserole? Well we enjoyed having you and would like to be friends!
This post contains affiliate links.