When I was a young girl my father had a huge backyard garden. I didn't understand the big appeal of the garden back then, mostly because I had to spend so many weekends in the hot sun helping to pull weeds! My Dad always had a great yield of tomatoes, cucumbers and other delicious greens.

One day last year on a whim, I decided to start my own little vegetable garden. I wanted to do something outdoors so that I would have more of an excuse to enjoy the sunshine instead of staying inside all of the time in front of a computer screen. I knew absolutely nothing about gardening, so I winged it mostly.
This began my love of gardening. Although I started planting VERY late in the season (the last week of July) I got the most beautiful yield of cucumbers, greens, buttercrunch lettuce and carrots. I am now excited about the prospect of starting another one when the weather is just right.
So if you are even remotely interested in gardening as a first-timer, here are the steps I took to get mine started. I may not be an expert just yet, and am still studying the best methods, but this is what worked for me. If you're a first time organic gardener, just start small with a garden sized at about 5′ x 8′ — you can always expand it later.
Things you'll need:
– an area of land that gets plenty of direct sunlight
– organic soil in a bag
– garden tools (including a good rake)
– long wooden planks
– tall spikes
– staple gun
– a positive attitude
The best preparation for good work tomorrow is to do good work today.
– Elbert Hubbard
Much like life, you can't have consistent growth without a proper foundation. So I knew this soil had to be just right.
Next, I added the soil I purchased from my home improvement store to the silky soil and mixed it all together thoroughly with a garden rake. It looked fresh, dark and ready for planting.
The next step was to cordon off the area so that it was a well-defined garden. I purchased large cut wooden planks from Home Depot and hammered them into the ground around the garden. I also purchased green plastic garden fencing (comes in a roll at the store) and spikes to use later on to protect the garden from small animals. I also used the rocks I sifted from the soil as decoration around the garden area.
Sow a thought and you reap an action; sow an act and you reap a habit; sow a habit and you reap a character; sow a character and you reap a destiny.
– Ralph Waldo Emerson
When you focus on being a blessing, God makes sure that you are always blessed in abundance.
– Joel Osteen
Some may think this step isn't necessary, but I personally think it was crucial to the success of my little garden — especially being that I started planting seeds so late in the summer. I asked Divine Providence and my late, beloved father (who had recently passed) to watch over my garden. I thought positive thoughts about my garden and imagined all of the delicious, healthy vegetables it would grow.
Gardening requires lots of water — most of it in the form of perspiration. – Lou Erickson
A blessing is a circle of light drawn around a person to protect, heal and strengthen.
– John O'Donohue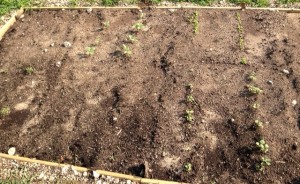 It is not how much you do, but how much love you put in the doing."

– Mother Teresa
With every deed you are sowing a seed, though the harvest you may not see.
– Ella Wheeler Wilcox
May you be encouraged to start your first organic garden in your backyard or a community garden this spring or summer. Happy planting!
Love Lynn
Did you enjoy reading My First Organic Garden: Tips, Pics & Motivation for the First Time Vegetable Gardener? Well we enjoyed having you and would like to be friends!
This post contains affiliate links.