If you happen to live in a major metropolitan city, you will quickly realize how limited your living space is compared to living in a rural community or in a suburb.  When you decorate a small space you should always add a bit of urban "zest." But you should also add a bit of the "country" for peaceful/zen decor that helps to balance out your space.
A Quick Note About Your Paint
The first thing you'll do before your furniture arrives is to paint the walls.  Make sure that you choose colors that are not too dark.  Dark colored walls make any room look smaller.  Try to pick colors that blend well from one room to the next.  Create a sense of unity in the apartment.
The Living Room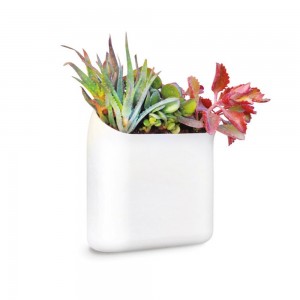 As for your living room, you can add a bit of a natural look to the room by purchasing a magnetic hanging unit.  This is an awesome new product that allows you to grow plants from a white decorative pot that sticks to your wall.  You can display just about any type of foliage,so make sure you choose plants that have some of your favorite colors in them.  This hanging unit will save you floor space and bring attention from company straight to the plants that you love and care for.  Hanging plants high on a wall is also a great idea if you have pets — the plants can grow and thrive indoors out of their reach.
The Kitchen
You should always have a kitchen that feels "inviting".  You and your guests should feel comfortable and warm while enjoying a cup of coffee together.  Try lime and coconut colors to create the perfect atmosphere.  If you happen to have a small and awkward shaped kitchen, choose bistro style furniture.  Also, hang a few pictures that you would enjoy seeing in your favorite cafe, like coffee cups or fine art.
The Bathroom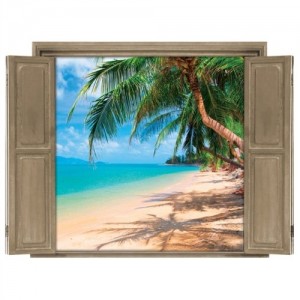 In your bathroom, adding a beach scene or theme will bring a smile to your face each morning.  Since you visit your bathroom so much during the day, it should bring you back to your most pleasant vacation memories.  Purchase peel and stick beach scene decals online.  You can also apply medium size beach shells to the border of a large mirror above your sink.
Your wall decor ideas for a small urban apartment should reflect your personality and make the rooms seem larger and more inviting.  Start by writing out a plan for the room to be decorated.  Most of all use your imagination when you incorporate colors, patterns and themes.  You should have a enjoyable experience each and every time you decorate.
Have Fun!!!
Posted by Eve
Did you enjoy reading Walls Decor Ideas for a Small Urban Apartment? Well we enjoyed having you and would like to be friends!
This post contains affiliate links.