At my house we absolutely love spinach. Spinach is jam-packed with healthy vitamins and nutrients for the body. Eating lots of spinach has a number of health benefits for diabetics, people with high blood pressure and even bone conditions.
It also goes very well with many Italian dishes. One of my favorite spinach dishes to make is a spinach and sausage bake. It is so delicious, flavorful and healthy.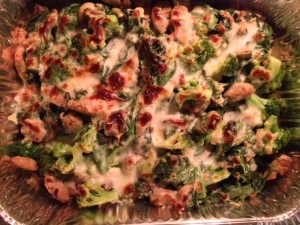 The ingredients all blend together so nicely to give you a flavorful Italian style vegetable-based dish. It doesn't take long to make but you really have to stay close to the pot and do some work. Here's the recipe:
5 Italian Chicken Sausages (I like Premio)
1 1/2 large 20 oz bags of fresh spinach
1/2 cup of peeled garlic cloves (chopped into large chunks)
1/2 box of mushrooms (sliced and chopped)
1 large broccoli crown (optional – chopped)
8 oz bag of shredded low-fat mozzarella cheese
2 pinches of cayenne pepper
1 tablespoon of salt (to taste)
1 tablespoon of black pepper (to taste)
1 tablespoon of garlic powder
Olive oil
Boil the sausage in a large non-stick skillet. Drain the water and then chop the sausage up into bite sized pieces. Fry the pieces in olive oil until a little browned. Add chopped garlic chunks and cook for a few minutes. Add mushrooms next and cook a few more minutes. Mix in broccoli, seasonings and as much of the spinach as will fit in your lot. Add a little more olive oil. This is where you have to be quick because you don't want the spinach to reduce too much. Scoop the sausage mixture from the bottom on top of the fresh spinach until it cooks down some then add more spinach until it's all in there (don't overcook!)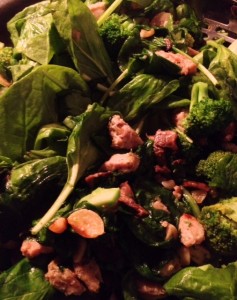 Scoop the spinach mixture in a square foil baking pan and top with mozzarella cheese. Bake on 350 for 5 minutes then turn it on broil for about 2-3 minutes until it's browned. Salt to taste.
This recipe serves about 4 people.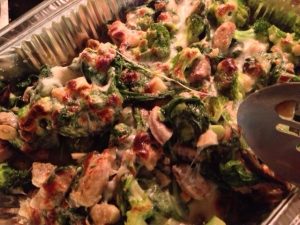 Posted by: Jasmine
Did you enjoy reading Quick Recipe: Italian Spinach & Sausage Bake? Well we enjoyed having you and would like to be friends!
This post contains affiliate links.