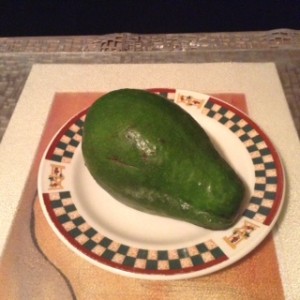 I grew up eating avocados, on a regular basis. I find that avocados have a light refreshing taste and can add flavor to most any meal. I was amazed to find out, how many people have never tried avocados. I believe the reason is because many do not know how to prepare or pick them. So, I decided to give some ideas on how to quickly and simply select and prepare avocados.

There are two main types of avocados, one is called a Dominican avocado and the other is called Haas avocados. The Dominican avocado (shown in picture) is large, bright green and has smooth skin. The Haas avocado is much smaller in size, is a dark color and has wrinkly skin.

Avocados are good for you — they are high in vitamin K, C and folate. Try to add at least one to your diet each week.

My tip on how to pick an avocado is easy. Simply, pick it up in your hand and squeeze gently with your thumb. Now, if it has no give and is rock hard it is not ready to be consumed, yet. You want it to feel soft but not mushy.

As for preparing the avocado, you just need a sharp knife and a large spoon. Cut it in half and twist it open. One side will have a non edible pit that needs to be removed. To remove the pit, strike the pit safely and firmly with the knife and give it a twist. The pit should be stuck on the knife, discard the pit. Now, place your spoon, starting at the top and scoop out the " meat " of the avocado. You can either cut it into long slices or cut it into chunks.






Avocado pairs well with salads of all kinds and sandwiches as well as Mexican and Spanish foods.
Posted by Eve
Did you enjoy reading Tips for How to Select and Prepare Avocados? Well we enjoyed having you and would like to be friends!
This post contains affiliate links.