This recipe for Boston Butt Pork With Homemade Gravy is rather simple to make and tastes delicious. All that you need is a few key ingredients to make a home made meal that you, your guests and your family will enjoy. They will think that your spent hours in the kitchen when it's more like a half an hour. You can also replace the pork with beef or chicken in this recipe if you wish. This will feed three people very well.
Ingredients
1-2 Pounds of Boston Butt ( cut into bite size pieces )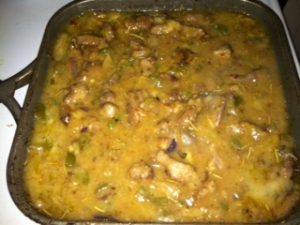 3 Tablespoons Extra Virgin Olive Oil
3 Cloves of Fresh Garlic ( finely chopped )
1-2 Teaspoons of Salt
4 Tablespoons Flour
2-3 Teaspoons Onion Powder
1 Small Red Onion ( diced )
1 Small White Onion ( diced )
1-2 Tablespoons Rosemary
1/2 Large Green Pepper ( diced )
Gravy Mixture Ingredients
1-2 Tablespoons Flour
1/2 Chicken Bouillon ( beef OK )
1 Cup Warm Water
Instructions
In a large sauce pan add olive oil and place on medium high heat.
Add onions and green peppers to sauce pan
season with:
1 Tablespoon Rosemary
1 Teaspoon Salt
3 Cloves Finely Chopped Garlic (add last, to make sure garlic doesn't burn)
Sautée until tender
Remove onions and green peppers and set aside
Season pork with remaining spices and coat meat with 2 Tablespoons of flour
Add: 2 Tablespoons of Olive Oil to sauce pan on medium high heat and allow oil to heat up for 1-2 minutes
Add: seasoned and floured meat to pan (spread out evenly in sauce pan)
Cook meat for 2-3 minutes on each side until browned
Return sautéed onions and green peppers to pan
Allow to cook on medium heat for 2-3 minutes ( to allow flavors to blend )
While flavors are combining make gravy mixture. In a large bowl add:
1 Cup of hot water
1/2 bouillon cube
2 Tablespoons Flour
Whisk until bouillon is disintegrated and combines with flour
Now, reduce heat to low and pour mix over meat and peppers
Mix gently until gravy thickens ( if too thick, add a little water slowly to thin out gravy )
Serve this over rice with a side salad.
Enjoy!!!!
Posted by Eve
Did you enjoy reading Boston Butt Pork With Homemade Gravy? Well we enjoyed having you and would like to be friends!
This post contains affiliate links.