One of my cats has a peculiar habit — he likes to go around the house knocking over any water bowl he can find. Pet experts say they do this for one or more of the following reasons:
He's trying to play — it's amusing to him.
He prefers to lick the water off of the floor or his paw.
They like to see the water in movement (which is why many cats prefer running fountain water).
They don't like having to lean down over the water bowl to get a drink (in that case, I would suggest this tilt-a-bowl).
In my case, I think it's because my cat just likes to have a little fun and get a reaction out of me! Not only does it give me a mess to clean up — it's a waste of the crisp, cool spring water that I buy for them and could cause his siblings to go without water for a period of time until I return home.
I've tried a number of solutions to stop this annoyance, having learned that he's not going to stop doing it. I tried using heavier bowls, but wouldn't you know it — this cat is persistent. He's a big guy, tall, lean and strong, so he can move a heavy bowl too. He will keep pushing the bowl until all of the water finally splashes out.
I also tried using velcro pads and Gorilla tape to keep the bowl in place. Again, he would stay at it — pawing at the bowl until the velcro or tape pulled the paint up from the surface.
I finally found a solution that's easy, effective, and cheap to implement. I made a cat bowl strap. Here it is: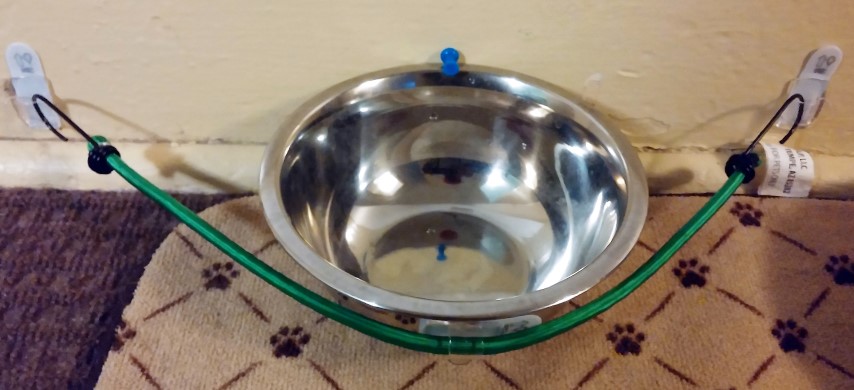 Here's all you need to make this work: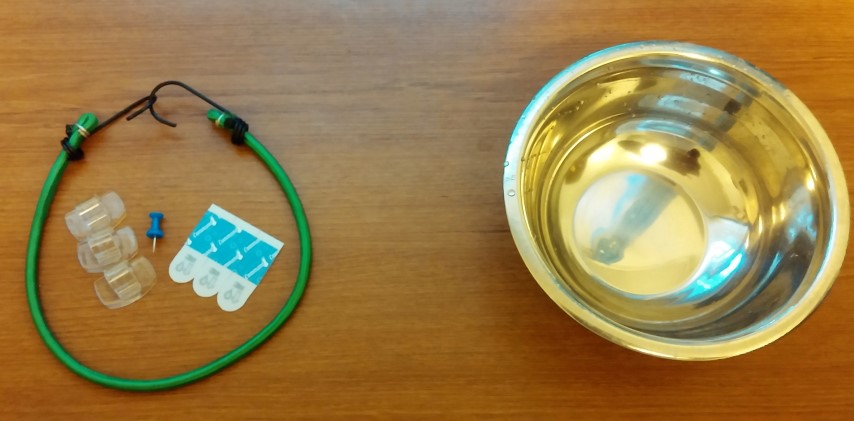 Get an 18″ bungee cord, a regular sized cat bowl, and a push pin like the one you see above. The items you see at the center of the green bungee cord are Command Light Clips. They only cost about $10 each and you get a lot in one package. These clips are useful in a number of applications, including routing cable cords around your house: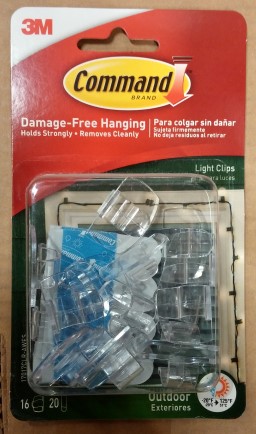 I chose these clips because they won't damage the wall or your paint job (damage-free hanging). You just pull the tab on the end and it releases the hold. And let me tell you, that hold is STRONG. Make sure you are 100% decided on where you want to put the clip.
So the first step to making this cat bowl strap is to apply the command tape to the back of the 3 clips exactly as shown below: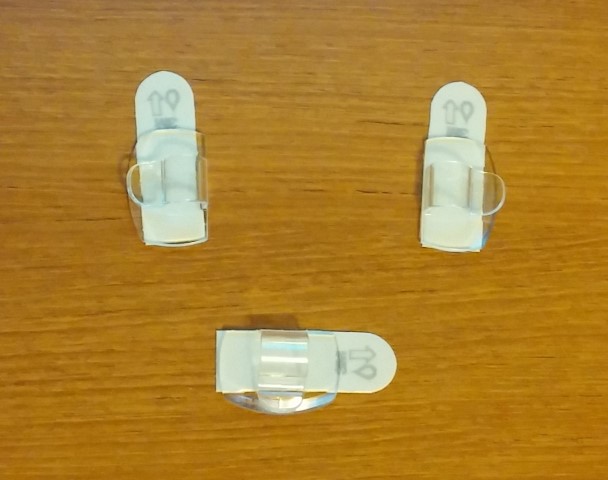 The orientation is important here for ease of removing the command strips when needed. (If you're left-handed, swap the bottom one from right to left-oriented.) The blue side of the command strip is applied to the clip and the black and white side is for the wall or other surface.
The next step is to attach the bottom-most command clip to the front of the bowl. By the way, I chose this particular stainless steel cat bowl because it has a rather large lip at the top and is a little heavier compared to plastic bowls. But this solution should work with any medium-sized bowl.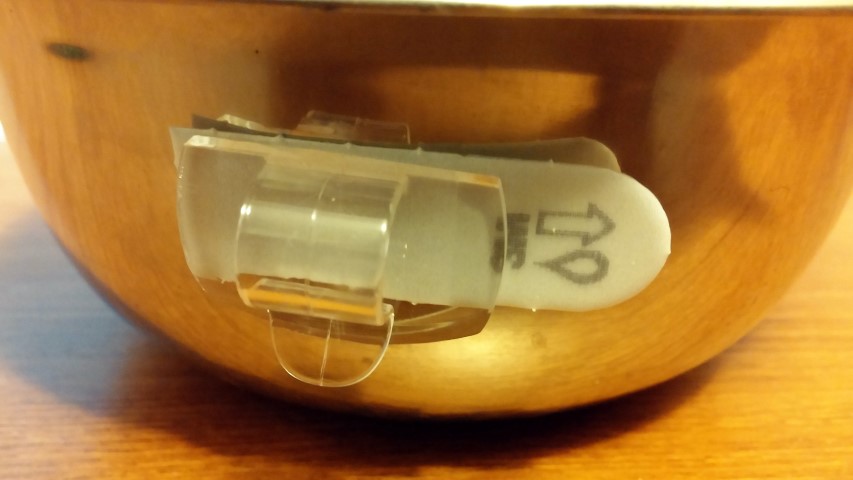 Next, put the 18″ bungee cord into the clip at the front of the bowl. You can find these bungee cords at some Dollar Trees or get a pack here.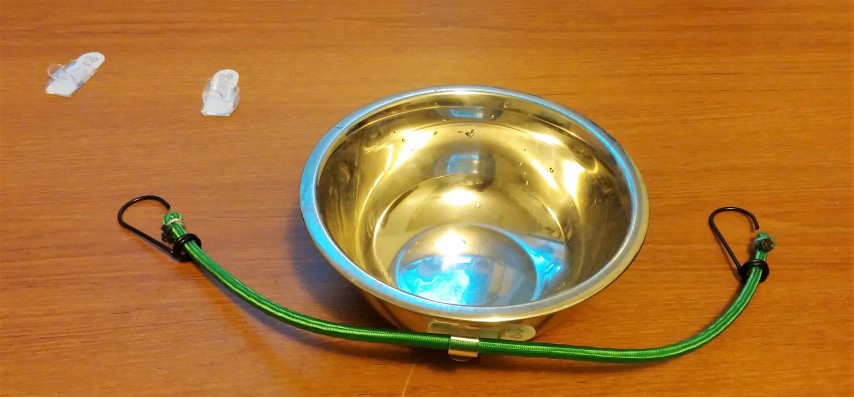 After you have this set up, apply the other two Command Clips to the wall where you want the bowl to sit. Make sure the wall is wiped down clean and completely dry to ensure that the strips will stick. It's a good idea to set the bowl and bungee cords next to the wall to estimate where the clips should go. When you're done applying the last two clips to the wall, loop the bungee cord hooks into them.
The final step is to put the push pin right above back of the bowl. This will prevent the bowl from being pulled forward. After everything is done, this is what it should look like: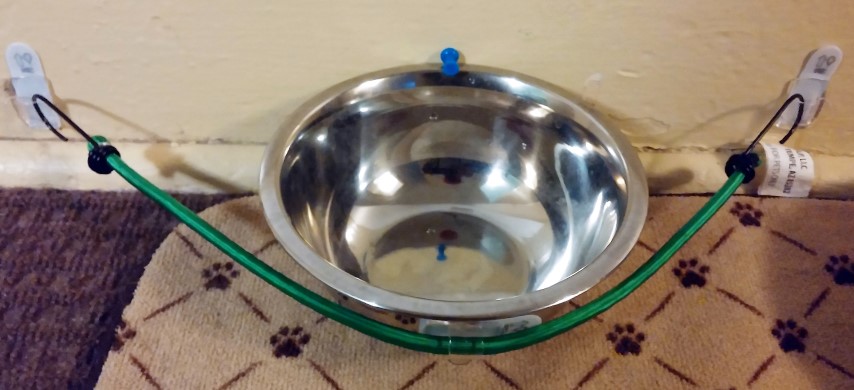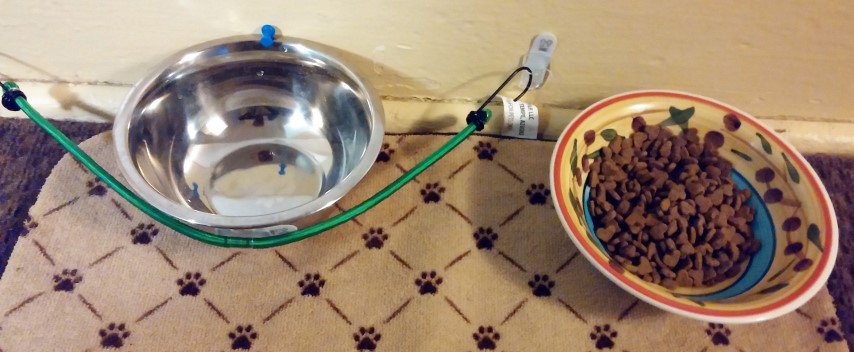 Because you have the open clip at the front, you can easily remove the bowl to rinse it out, then put it back in moments.
To date, my little loveable water splasher hasn't been able to knock this bowl over or even get it to move. I like this solution because with the damage-free Command Strips, you don't have to worry about messing up your wall or paint job. When you decide to move the bowl, just pull the strip flap and it comes off seamlessly.
Of course, this simple solution will also work for dogs who like to play with their water bowls!
An Alternative Solution That May Work for Your Cat
Another alternative (which I also have) is to buy a Drinkwell Water Fountain for Cats. He's so obsessed with the running water dripping down that he doesn't bother trying to move it around. The only downside is having to dismantle and clean the fountain thoroughly every 2-3 days.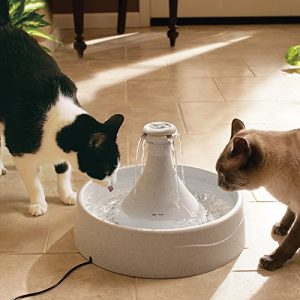 So those are my solutions for how to stop your cat from knocking over water bowls. Enjoy your cats, love them and keep them hydrated!
Posted by Louise
Did you enjoy reading How to Keep a Cat (or Dog) from Knocking Over Water Bowls? Well we enjoyed having you and would like to be friends!
This post contains affiliate links.