Have you ever visited a Mexican restaurant and had the pleasure of tasting their Pico De Gallo with corn chips as an appetizer? I fell in love with Pico De Gallo at the first taste. The flavors were crisp and fresh. I thought I could purchase a store brought version to have the same great experience. Sadly, it tasted horrible and the ingredients were appalling. I decided, based on my memory of the ingredients of the Pico at the restaurant, to try to make it on my own.
Wow! I could not believe that I made my own Pico De Gallo at home, using fresh ingredients on the first try. I now, am sharing my "secret" recipe with all who appreciate Pico De Gallo. This recipe will yield enough to feed a party of 12, happily!!!!
Ingredients: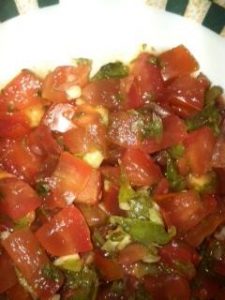 8 Large Ripe Tomatoes
1/2 Red Onion (optional)
2 Jalapeño peppers
4 Garlic Cloves
1 Large Bunch Cilantro (fresh)
2 Limes
1/4 Cup Red Wine Vinegar
1/2 Teaspoon Salt (to taste)
Instructions:
Cut tomatoes into 1/4's
With your fingers remove the seeds (do not do this under water, will ruin tomatoes texture)
Dice tomatoes & put into large bowl (use a sharp knife)
1/2 medium red onion (Optional)
Remove outer skin
Cut into chunks
Place in food processor and pulse until small onion pieces are achieved
Add diced red onion to tomatoes
Remove the stem of the jalapeño pepper
Slice pepper into two pieces (vertically)
Remove seeds (do not touch your eyes or face when cutting this pepper)
Pulse in food processor, until finely chopped
Add jalapeño peppers to tomatoes in the bowl
Peel 4 garlic cloves
Pulse in food processor, until garlic is finely chopped
Add garlic to bowl with the other ingredients
Cut the bottom stems of the cilantro
Rinse cilantro in water( to remove any dirt )
Chop roughly and place in food processor, pulse until finely chopped
Place in bowl
Cut the 2 limes in half
Squeeze the juice over the ingredients in the bowl
Add 1/4 cup of red wine vinegar to bowl
Add 1/2 teaspoon of salt to bowl (to taste)
With a large spoon mix the ingredients
Taste to decide if more salt is needed.
Mixture needs to marinate at least for an hour so that all the flavors become combined.
To serve, place Pico in a large festive bowl and serve with corn chips.
ENJOY!!!!!!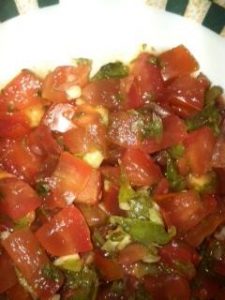 Did you enjoy reading Homemade Pico De Gallo? Well we enjoyed having you and would like to be friends!
This post contains affiliate links.