The Just Beautiful campaign seeks to raise awareness about potentially harmful substances in cosmetics.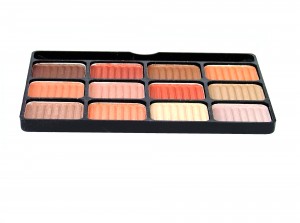 When you pick up your favorite makeup or beauty product from your local pharmacy or department store, you just want to know how it will look on your face. How it will complement your eyes? How it will match your skin tone? How it will make your hair smell and feel?
The last thing on your mind is whether or not it may contain toxic ingredients that could harm your face or damage your health.
Environmental Defence, a public interest group based in Canada, wants to raise awareness of the poisons that exist in some makeup and beauty products. They're doing so with an aggressive campaign called "Just Beautiful." It includes commercials and online media.
The main focus is on what the agency calls the "Toxic 10" : BHA/BHT, coal tar-derived colors, dibutyl phthalate, formaldehyde-releasing agents, fragrance, parabens, petrolatum, siloxanes, sodium laureth sulfate and the closely related chemical sodium lauryl sulfate, and triclosan.
The Just Beautiful campaign wants to convince manufacturers to eliminate these ingredients from their products and seeks to direct consumers to safer alternatives. The group has also published a list of safer products, dubbed the "Just Beautiful Campaign Cabinet," on its website JustBeautiful.ca.
According to a report in the Calgary Herald, Maggie MacDonald, the toxic program manager of the Environmental Defence group, believes that safer alternatives are in demand by the public. Christian Mathieu of partnering agency Open, also based in Canada, agrees and thinks that ignorance of these ingredients is the main issue: "I think everyone in his right mind would balk at the notion that there are toxins in cosmetics. This is making people aware of the fact."
The global lobby against harmful products in cosmetics is growing. Anti-toxin groups are using a number of tactics, including boycotts and informational campaigns like "Just Beautiful" to get the message through to corporations.
In the meantime, the next time you're at the store buying makeup, you might check the ingredients to see if any of the "Toxic 10" show up on the list. Here are a few companies that offer non-toxic makeup products:
Did you enjoy reading Just Beautiful Campaign for Non-Toxic Makeup Products? Well we enjoyed having you and would like to be friends!
This post contains affiliate links.