Cooking with your children should always be a fun learning experience. I'll never forget learning from my mother how to cook. Whether I was helping her prepare lunch or dinner, it was quality time with her that I will never forget.
As a mother myself, I remember also including my young children in the preparations of meals. We always had a great time. I was glad to pass on the tradition that my mother started with me all those years ago. After all, how else would they learn how to take care of themselves with delicious foods?
So I want share with the world my kids' favorite childhood recipe for pizza. Trust me they devoured every piece! More importantly, they felt a sense of achievement because they made it themselves. Here is the recipe:
Ingredients
4 Flour Tortillas
1 Cup Pizza Sauce
1 1/4 Cup Shredded Mozzarella Cheese
( You can add additional toppings such as pepperoni, sausage, mushrooms etc.. )
Directions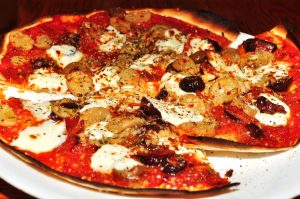 Preheat oven to 350*
Place Tortillas on a non stick baking sheet
Now let the kids make their own individual pizza
Use a large spoon to spread 2-3 tablespoons of pizza sauce on tortilla Sprinkle mozzarella cheese on top
Add any desired topping(s)
Place in oven for 8-10 minutes or until cheese is melted.
Enjoy this Kid Friendly Pizza Recipe!!
Posted by Eve
Did you enjoy reading Kid Friendly Pizza Recipe? Well we enjoyed having you and would like to be friends!
This post contains affiliate links.