I'm the type of person… if I see something I want it. Well somehow I saw a picture of tomatoes and mozzarella/feta and I wanted it. I decided to make it my mission to create a quick tomato and mozzarella salad. I added some pasta to the mix to make it a real lunch.
It took all of 10 minutes to make. Here's the simple recipe:
– 4 plum tomatoes
– about 6 ounces of mozzarella cheese (cut into medium sized chunks)
– About a half a cup of Farfalle
– Balsamic vinaigrette (I like Ken's)
– Italian seasoning or basil seasoning
– Salt & pepper
Boil the pasta with a bit of salt and olive oil until it's al dente. Drain pasta and put it in the freezer to get it cold. In the meantime, cut the tomatoes and mozzarella into bite-sized chunks. Put them together in a bowl and season with basil/italian seasoning, salt and pepper. Add the now-cold pasta and about a 1/4 cup of balsamic vinaigrette and fold everything together with a spoon.
Mmmm, it was so tasty.
Adjust seasoning and dressing according to taste, enjoy!
Posted by: Jasmine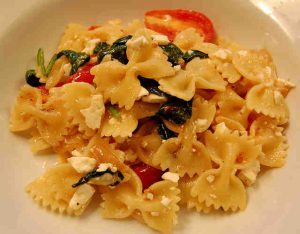 Photo credit: Flickr/rooey202
Did you enjoy reading Quick Plum Tomato, Mozzarella & Farfalle Salad? Well we enjoyed having you and would like to be friends!
This post contains affiliate links.