If when you stand in front of your window(s) and feel a breeze, you have a draft. A draft allows cold air to enter your home. This subsequently, can be very costly during the cold winter months.
Your thermostat will work overtime to maintain a comfortable temperature inside your home. I came up with two easy solutions (other than replacing the windows) to eliminate drafts from your windows that will save you money on your heating bill.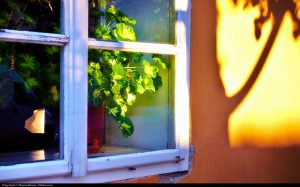 1- First, visit your local home improvement store and purchase a large roll of thick plastic. Upon your returning home, measure the length and width of the windows and cut the plastic a little larger than your measurement. Now, starting at the top of the window using either doubled sided tape or a staple gun, adhere the plastic onto the interior of the window frame. Do this to all of your windows. Use should soon realize the difference in how much less your thermostat has to work, to heat your home.
2- The second solution is to roll up a large towel, old clothes or sheets. Place the roll at the bottom of the window to stop drafts. This will again limit the amount of cold air that enters your home. Yet, the first solution is the solution that I highly recommend to improve the heating issues in your home.
Use these two simple winter home tips to eliminate drafts from your windows — you will probably see a significant improvement in your upcoming electric bills!
Posted by Eve
Did you enjoy reading Winter Home Tips: Eliminate Drafts From Your Windows? Well we enjoyed having you and would like to be friends!
This post contains affiliate links.