Having the right kitchen appliances are key to preparing meals successfully and beautifully. They should also add to your decor and be very functional.
I knew that Amazon would have a great selection of modern appliances to choose from, so I decided to do some browsing to see some of the latest products available. Here are 3 appliances that caught my eye—they will add style to your kitchen and assist you in preparing meals a lot easier.
Keep it Sharp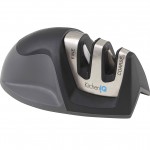 One of the most time consuming tasks that you have to accomplish when cooking is to chop up your vegetables and meats. The key to making this job quicker is to ensure that your knife is nice and sharp. The KitchenIQ 50009 Edge Grip 2 Stage Knife Sharpener efficiently and quickly sharpens your existing knives so that you'll make quick work of your fruits, veggies and meat. And it's under 7 bucks, worth every penny.
How Do Chefs Make Everything from Scratch?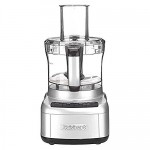 If you are wondering how cooks, chefs and bakers are able to make everything from scratch, it's because they always have a good food processor handy. The Cuisinart FP-8SV Elemental 8-Cup Food Processor in Silver is a highly rated, stylish machine that will do the job. Just slowly add your ingredients to the processor and allow the machine to do the work for everything from a perfect pie crust to a special sauce or salsa. You can also use it to chop up your vegetables in a hurry for a quick recipe. It's easy to clean and has 350 watts of power.
Make Pasta like the Masters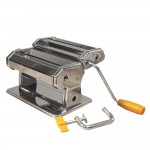 If you love pasta as much as I do, you definitely have to have a pasta machine in your kitchen! The Roma 6 Inch Traditional Style Pasta Machine is a handy little appliance that allows you to make homemade pasta just like the Old World chefs (like Lidia Bastianich) do. No preservatives or additives — just natural ingredients. Just make your pasta (use this recipe and your food processor), place the dough into the machine and turn the roller to create your spaghetti, fettuccine, linguine or lasagna. You can also make ravioli (yum).
Have fun with your new kitchen appliances!
Posted by Jade
Did you enjoy reading 3 Must-Have Stylish & Practical Kitchen Appliances? Well we enjoyed having you and would like to be friends!
This post contains affiliate links.