Almost every time I visit a coffee shop, whether it's Starbucks or a neighborhood cafe, I get an extra shot of espresso in my cup. I really enjoy it and it gives me a boost for my day and when doing work. Yet, what I do not particular enjoy is the cost per cup! I decided to browse Amazon.com for an affordable, durable and stylish cappuccino maker that I could put on my kitchen counter and use every morning. Here are the 3 interesting espresso maker machines, all under $75 (as of the publishing of this post), that I'm considering:
Krups XP 1000 Steam Expresso Machine With Frothing Nozzle For Cappuccino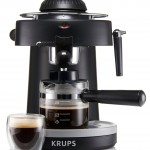 This machine resembles an "old school" coffee pot, only much smaller. It has a 3-way switch to adjust the strength of your cappuccino and froth the milk. The brew time is just 3 or 4 minutes. It's a very compact espresso machine that will probably tuck comfortably into a small nook on your kitchen counter.
Hamilton Beach Espresso Maker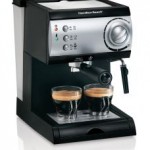 I like this machine because it looks a lot like the machine you might find in Starbucks or another popular coffee shop. It advertises "café quality results," which is definitely what I'm looking for. It has a 15 bar Italian pump that presses out the espresso, and steams and froths the milk for a perfect white-topped cappuccino. It also can brew two individual cups of espresso at the same time, so you can make one for you and one for your love. A nice way to start the day.
Bialetti 6800 Moka Express 6-Cup Stovetop Espresso Maker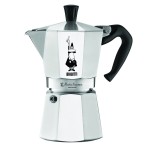 This is a traditional espresso maker that's popular in Italy. You add water and your favorite coffee to the bottom compartments and the espresso brews its way up to the top compartment in about 5 minutes. It's comes in a 1, 3, 6, 9 or 12 cup size depending on how much you like your espresso. While this doesn't make cappuccinos, it is considered the premier way to make an authentic strong cup of espresso, takes up little space, and can be carried from room to room for serving to guests. It's also reasonably priced at about $30.
I was really impressed at the choices and prices for these cappuccino maker machines on Amazon. I'm currently leaning toward the Hamilton Beach Espresso Maker because it's right in the middle and gives me every option I'm looking for.
Posted by Jade
Did you enjoy reading 3 Good Cappuccino (Espresso) Makers Under $75? Well we enjoyed having you and would like to be friends!
This post contains affiliate links.