A super easy way to make a variety of different meals is with a juicy store-bought rotisserie chicken. You will love these mouth watering recipes because they are easy to make and only require a few extra ingredients.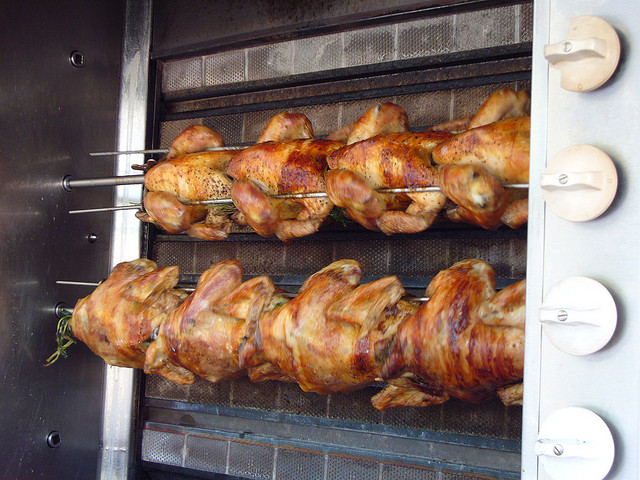 Chicken Club Sandwich
Ingredients
3 slices toasted bread
2 slices chicken breast
4 strips of bacon cooked
2 leaves of lettuce
4 slices of tomato
mayo (to taste)
salt & pepper (to taste)
Instructions
Take toasted bread slices and smear mayo on top. Then lightly season with salt and pepper. Place a leaf of lettuce on a slice of bread then add tomato, bacon and chicken. Place another piece of bread on top, mayo side up and repeat. Cover with last piece of bread. Cut in half and serve with a deli pickle.
Chicken Salad
Ingredients
2 cups of chicken (diced)
1 celery stalk (peeled & finely diced)
1/2 small red onion (finely diced)
1/4 cup red seedless grapes cut in half
1/3 cup mayo
Salt & pepper to taste
Instructions
In a large bowl, add mayo, onion, celery, grapes and chicken. Gently combine with a large spoon. Let chill for 30 minutes before serving. Serve on lettuce cups with potato chips on the side.
Chicken Soup
Use this recipe when you want to use up all of the remaining rotisserie chicken.
Ingredients
1 onion (cubed)
2 celery stalks (chopped)
2 carrots (chopped)
1 tablespoon garlic powder
1 tablespoon onion powder
2 chicken bouillon cube
1 cup egg noodle pasta (cooked) *optional
2 teaspoons dried parsley flakes
4 cups water
Salt to taste
Instructions
In a large pot on medium high heat place whole chicken, water, bouillon, garlic powder, onion powder, parsley flakes, carrots, and celery. Allow to boil covered for at least 30-45 minutes, until chicken falls off bone. Salt to taste. Add cooked pasta last. Before serving remove large pieces of bone. Enjoy with garlic bread.
All of these recipes are extremely flexible. For instance, use for favorite type of bread, wrap or pita. Or substitute mayo for mustard or avocado. I hope you enjoy these recipes.
Posted by Eve
Image credit: Flickr/mercedesfromtheeighties
Did you enjoy reading 3 Ways to Use a Store Bought Rotisserie Chicken? Well we enjoyed having you and would like to be friends!
This post contains affiliate links.