This recipe for Arabian Inspired Chicken with Garlic Sauce is savory and delicious. If you enjoy the wonderful flavors of the Middle East, this will surely please your taste buds. If you are looking for a dish that your friends and family will rave about, this is it! This recipe will feed approximately four adults.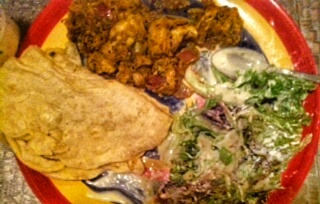 Ingredients For Garlic Sauce
6-10 Cloves Garlic ( grated )
Juice of 1 Large Lemon
1Teaspoon Salt
1/2 Cup Olive Oil
1/4 Cup Fresh Cilantro (finely chopped)
1/2 Cup Greek Yogurt
Mix all ingredients together, taste for flavor and place in air tight container, refrigerate
Ingredients For Marinated Chicken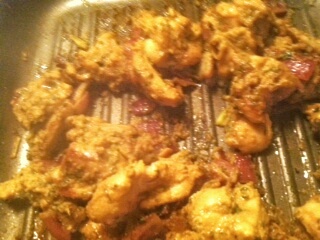 4-6 Skinless Chicken Thighs (deboned and cut into cubes)
1 Medium Red Onion (diced)
2 1/2 Teaspoons of Cumin
1 1/2 Teaspoons Turmeric
1 Teaspoon Salt
1 Teaspoon Pepper
1 Teaspoon Chili Powder
4 Cloves Garlic (grated)
2 Tablespoons Dry Parsley
3 Tablespoons Olive Oil
In a large bowl add oil and spices, mix well.
Add cubed chicken to bowl and blend with oil and spices.
Refrigerate for 2 hours (best results if marinated overnight).
In a large skillet on medium high heat, add marinated chicken, cook uncovered for 4 minutes on each side until done.
Serve this delicious Arabian Inspired Chicken with Garlic Sauce on top of spring mix lettuce with cucumbers and extra garlic sauce or serve on warm pita or flat bread.
Enjoy!
Posted by Eve
Did you enjoy reading Arabian Inspired Chicken with Garlic Sauce? Well we enjoyed having you and would like to be friends!
This post contains affiliate links.