This is a delicious recipe for Meatball Stroganoff with Egg Noodles that is easy to make any day of the week. My family truly enjoys helping me in the kitchen to make this recipe, so they can eat that much faster.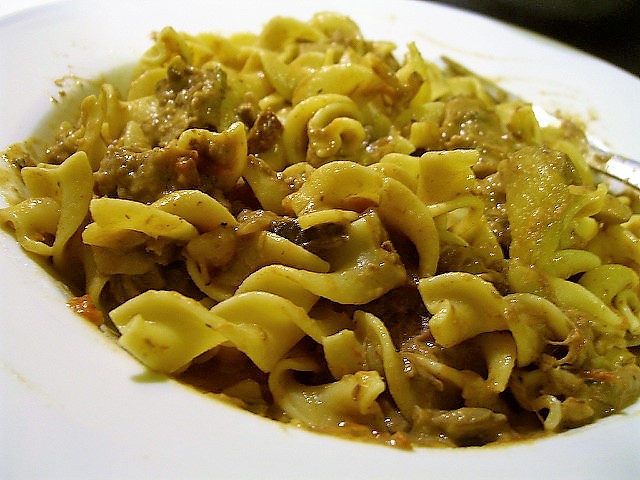 Ingredients
3 cups of egg noodle ( size of your choice )
1 cup of evaporated milk
1 cup of sour cream
1 1/2 cups of beef broth
Salt and pepper (to taste)
1 pound of ground beef (80/20 mix)
1/4 teaspoon of allspice
1 tablespoon of dry oregano
1 tablespoon of dry parsley
1 teaspoon of basil
2 tablespoons of extra virgin olive oil
Instructions
In a large pot add 8 cups of water
Add 2 teaspoons of salt to water
Bring to a rapid boil
Add noodles
Cook noodles for 5-7 minutes (you want the noodles "al dente")
Drain cooked noodles
Set aside
In a large bowl add
Ground beef
Oregano
Parsley
All spice
Basil
Salt and pepper
Mix together with either your hands or a potato masher
Preheat a large sauce pan on medium heat and add the olive oil
While pan is heating, form medium sized meatballs and place into pan to brown
Make sure all sides are browned
When meatballs are fully cooked remove meatballs from pan
Deglaze the pan by pouring beef broth into pan
Bring broth to a simmer
Slowly add milk, sour cream and stir together
Simmer on medium high heat until sauce is reduced (sauce should thicken)
Return meatballs to sauce
Add egg noodles
Add salt & pepper to taste
Toss with tongs to coat egg noodles with sauce
Place cover on pan and cook for 5 minutes
Serve your Meatball Stroganoff with Egg Noodles while hot.
Enjoy!!!!
Posted by Lorraine
Photo courtesy Flickr/benketaro
Did you enjoy reading Meatball Stroganoff With Egg Noodles? Well we enjoyed having you and would like to be friends!
This post contains affiliate links.