Laptop fingers is a condition that can be a real pain. Here are tips to deal with laptop fingers to avoid carpal tunnel syndrome, arthritis and similar issues.
Even as I type now, I am managing a minor issue that plagues most writers, coffee shop junkies and email addicts. It is an uncomfortable condition that I call "Laptop Fingers."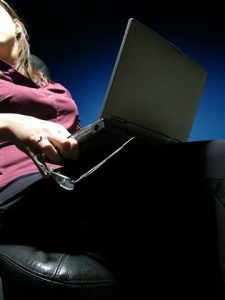 Laptop Fingers occur when you spend 10 or more hours per day typing on a laptop keyboard that was designed for a person with 3 inch long hands. That, tied in with the need to move the cursor around with a tiny ball in the middle of the keyboard, or by ice skating your fingers over a smooth plastic square that somehow knows where the pointer on your screen is.
If you are on a laptop right now reading this, take your fingers right now and slowly act like you are about to move the pointer. What happened? I bet your pointer and middle fingers instinctively grew together and began serving as a pseudo mouse. Now place those fingers on the square and move them around. You can probably feel the pressure already. Now pay attention to the feeling you are creating in the base of your other two fingers. What is this doing to our fingers over time?
As someone who used to work in data entry, I know the risks and dangers of carpal tunnel. Can Laptop Fingers put you on that road? In extreme cases these problems can develop into arthritis.
In my case, the pain would sometimes grow all the way down my arm to the elbow – and that's around the time that I decided data entry wasn't for me – not even part-time. I mean hello, I'm a writer. What would I do if I couldn't type because of crippling pain in between sentences?
Back to the keyboard problem. If you look at a standard PC keyboard, it is wide with huge comfortable keys and a space bar that is not the same size as the "Enter" key. These keyboards are designed to make your typing experience as comfortable as possible.
On the other hand, laptop keyboards are not ergonomically designed. They are composed of tiny, fragile keys that are squeezed together into one glob of black squares — I'm almost positive the computer manufacturer wasn't thinking "comfortable" when creating this laptop. I also don't think it helps when a key is missing from the keyboard, causing you to have to push down extra hard to create that letter on you screen. (Who's going to be motivated to replace the whole keyboard over one digit?)
Here are a few simple solutions:
1) Type with a standard keyboard – most laptops have a connection where you can use an ergonomic USB keyboard.
2) Navigate with an actual computer mouse (not the little button or pad that causes you to have to scrunch your fingers together into an uncomfortable positions).
3) Take a 5-minute break from typing every 30 minutes to an hour or so to give your hands and fingers a good stretch.
4) Get an extra large laptop. Add gel wrist rests and other ergonomic features to make your typing experience more comfortable.
5) Use a speech-to-text program like Dragon Naturally Speaking to compose the majority of your writings. I've found that the modern speech-to-text programs are very adaptive, easy to use and save you time when you're writing (especially if you're composing a book or longer work).
If nothing else, make an effort to at least reduce the behaviors that may be causing you to feel the effects of "laptop fingers" as much as possible over time.
Take good care of your hands and fingers! Visit a doctor immediately if pain in your hands, fingers, wrists or arms progresses.
Posted by Jade
Did you enjoy reading Laptop Fingers: A Painful Condition Caused by Typing? Well we enjoyed having you and would like to be friends!
This post contains affiliate links.