Who said buffalo wings could only be made of wings?
The idea for buffalo wings came from someone who wanted to find a use for the previously unwanted wing parts of the chicken. Somehow this person came to the decision to coat them in hot sauce and call them "buffalo wings."
While sitting outside watching the birds hunt for food, I suddenly got the urge to drink a Corona and fry some wings. I went to the market to get some chicken wings but then I noticed that they had a package of cut up chicken parts for under $5. The chicken parts were the same price as the chicken wings (6 whole wings to a pack) except that they were 3 pounds versus 1 pound.
So I decided to make some buffalo chicken cut up parts.
I got home and started cleaning up the parts. It was surprisingly easy since they were cut pretty small. Here is what they look like: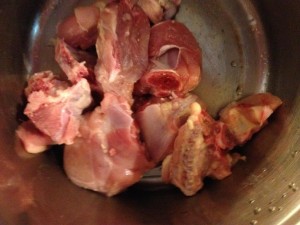 I prefer to take the fat / skin off the chicken to make it healthier. Like I said, it was easy because they were cut small.
After trimming the fat and rinsing the chicken I filled it up with water and added about a teaspoon of kosher salt. I allowed that to soak for about five minutes then drained it. I'm not 100 percent sure why that's a necessary step, but that's how I was taught.
Don't forget to turn on your oil (peanut oil is all that we use in my household for frying things because it is healthier and tastier than vegetable or canola oil) on a little higher than medium heat so that it's nice and hot by the time the parts are seasoned.
Next I seasoned the cut up chicken parts with these: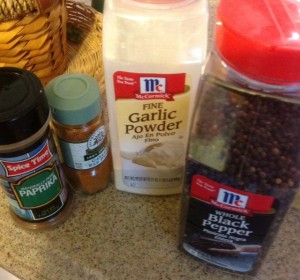 That's all you need to make some delicious chicken (plus some kosher salt, which isn't pictured).
I don't really measure, but I'd say about a few shakes of kosher salt, 2 teaspoons of garlic, 2 tablespoons of paprika, a teaspoon of cayenne pepper and 10-15 turns of your pepper grinder. You have to adjust it according to your taste. Put your fingers in there and mix it up together well.
When you first put your seasoned chicken parts in the hot oil (no more than medium heat) take your time and stand back (I almost lost my eyebrows once in college playing around with oil and high heat). After a while it should settle down and get cooking.
I put in as many parts as could comfortably fit in my frying pan and let them fry for about 12 minutes. Don't crowd the pan.
This is what they look like when fried.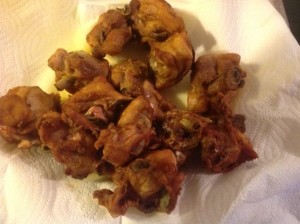 While frying the next batch, make your buffalo sauce mixture. It's a combination of:
– your favorite hot sauce (about 2-3 teaspoons to taste)
– ketchup (to your desired thickness but not too much)
– lemon juice (a few squirts)
– olive oil (about a tablespoon)
– a couple of pats of heated butter (for texture)
Adjust these ingredients depending on your dietary needs (you don't really need the butter). Mix all of them in a bowl and set side. When the wings are finished dip them in your sauce and slosh them around.
This is what fried buffalo chicken parts look like when they're finished.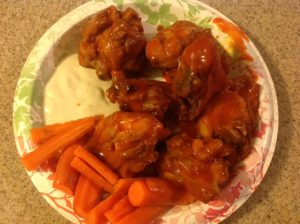 They also happen to taste delicious and are very filling (I couldn't finish them all). I sliced a couple of carrots to put on the side and added some ranch dressing for dipping. Feeds about 4 people (3 really hungry people).
Enjoy!
Posted by: Jasmine
Did you enjoy reading Fried Buffalo Chicken Cut Up Parts (Instead of Wings)? Well we enjoyed having you and would like to be friends!
This post contains affiliate links.