Homemade salsa verde is a great topping to put on chicken, pork or steak. It can even add flavor to tacos or wraps. If you are a fan of Mexican cuisine, this recipe is a must to try at least once. You can find tomatillos with the husks on at any Spanish American supermarket. It only requires a little preparation and the leftovers store very well in the refrigerator (keep it in an air tight container).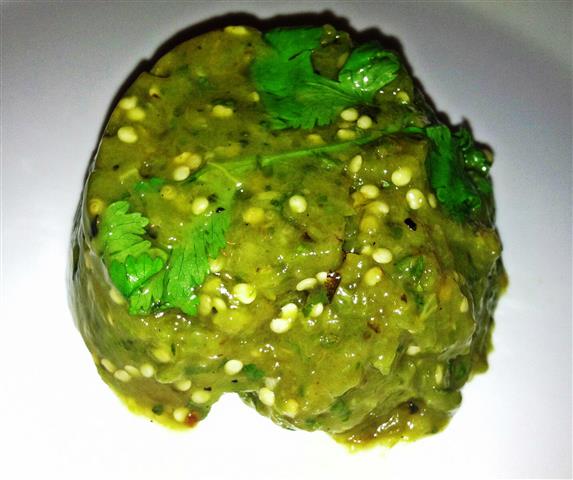 Ingredients
10-12 large tomatillos (outer husk removed) & cut in half
2 tablespoons extra virgin olive oil
1 large jalapeño (chopped coarsely & deseeded)
1 teaspoon salt (to taste)
1/2 lime (juiced)
6 medium garlic cloves (peeled)
1/2 bush of fresh cilantro (bottom stalk cut & discarded)
Instructions
Place a fry pan on medium high heat and add oil. Cut tomatillos in half and place on pan flesh side down. Allow tomatillos to brown for approximately 3-4 minutes. Turn each half over and allow them to cook and brown on the skin side. Now, in a food processor add garlic, jalapeño, cilantro and salt. Pulse for 1 minute. Then, add 1/2 of the tomatillos and blend until smooth. Add remainder of the tomatillos to processor and pulse until small chunks are present. Taste for salt. Lastly, pour lime juice over salsa and gently stir together.
Enjoy your homemade salsa verde!
Posted by Eve
Did you enjoy reading Homemade Salsa Verde? Well we enjoyed having you and would like to be friends!
This post contains affiliate links.