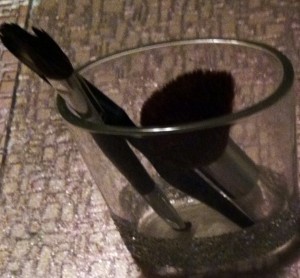 A Simple way to Clean Your Makeup Brushes
I absolutely love using my makeup brushes. However, they do require a little maintenance from time to time. They can become full of germs which In turn can cause your face to break out. I personally like to clean my brushes every other week. My cleaning process is quick and easy to do.
You will need:
1 teaspoon of shampoo (shampoo of your choice)
2 cups of Luke warm water
4-5 paper towels (depending on the amount of brushes to be cleaned)
Instructions:
Wet the brushes under running water that is luke warm
Remove from running water
Take one brush at a time and place securely in your hand and add shampoo
For 1-2 minutes gently rub the brush (with soap) in the palm of your hand to create a lather Rinse brush under luke warm water to remove soap and makeup residue from brush
Place the brush onto paper towel to absorb the moisture contained in the brush overnight to allow brush to fully dry Repeat all steps for as many brushes you want to clean
Inspect the brushes the next day and gently tap brush onto dry area of paper towel, no moisture should be present!!!!
WARNING: Do not dry brushes in a upright position, they will take much longer to dry +/or ruin your brush
Posted by Eve
Did you enjoy reading Home Tip: How to Clean Your Makeup Brushes? Well we enjoyed having you and would like to be friends!
This post contains affiliate links.