Most of us have ceiling fans in our home, but rarely pay them any mind. If you have ever attempted to clean the fan blades after a long while, you'll soon realize that it can be very time consuming. So, I have found a way to make cleaning ceiling fans quick and easy.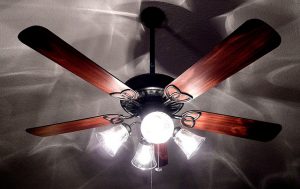 Instructions:
– Fill a bowl 1/2 way with warm water
– Add three drops of dish detergent to the bowl
– Dip a clean cloth into the bowl
– Squeeze excess water out of cloth ( cloth should be damp ) – Clean the blades on both top & bottom
– Allow blades to dry
– Discard dirty water
Next…
– Take a dry clean cloth
– Generously spray the cloth with the furniture polish
– Wipe the blades with the cloth on top and bottom ( reapply furniture polish often )
By applying furniture polish to the blades will prevent the dust from sticking to the blades. Therefore, cleaning ceiling fans is as easy as a quick wipe to remove the dust!!!
Posted by Eve
Did you enjoy reading How To Make Cleaning Ceiling Fans Quick & Easy? Well we enjoyed having you and would like to be friends!
This post contains affiliate links.