The more warm and sunny it gets outside, the more you, your family and friends are going to get excited about firing up the grill and barbecuing up a storm. But as exciting as it sounds in theory, bringing food outside can be a challenge due to the wide variety of bugs and flying insects that also want to party with you and have some of your delicious food. Here are some simple ideas for how to protect your food (and guests) from annoying insects.
Table Tent for Flies
As soon as the food hits the table outside, you're probably going to have to start contending with flies who want to try some. Flies are mostly harmless, but they are very unsanitary insects—they sit and feed on feces, dirt and dead carcasses—so you don't want them near your food. The best way to shield your food from flies is to get a couple of Pop-Up Mesh Screen Food Cover Tents. They're made of a light mesh material that the average fly can't penetrate and are super affordable (2 for about $10). Flies might still fly around the area, but you won't have to worry about them sitting on your fried chicken and potato salad.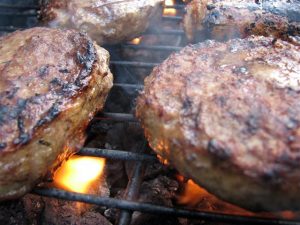 Citronella Candles for Mosquitoes
There's another type of fly that come to your barbecue to "feed" but not on the chicken. Mosquitoes are looking to make a meal out of your guests. One of the best ways to keep mosquitoes and other flying insects out of the area is to surround your guests with citronella candles. Citronella is a very fragrant oil that is extracted from a plant that mosquitoes don't like. There are a number of styles of citronella candles that you can buy that will make your party look and smell great while protecting you from mosquito bites. It's also a good idea to keep a mosquito repellent spray handy for your guests.
Keeping Ants Away
If you're planning on having a picnic or barbecue in the park, ants are going to be competing for your lunch. If you want to keep ants away from your picnic here are a few ideas:
Create a mixture of borax and regular sugar to sprinkle around the perimeter of your picnic of barbecue area. The ants will be attracted to the smell of sugar before they even have a chance to reach your table. The borax gets rid of ant colonies.
If you just want to keep the ants away, draw a line around your picnic area with a big piece of sidewalk chalk or sprinkle flour. They will be repelled by either substance.
If your foot is on top of a picnic table, put all four legs in a bucket of water. Ants can't cross water.
Wasp or Yellowjacket Trap
One of the most annoying parts of eating and grilling outside is dodging wasps, hornets and similar flying insects who think they are invited to your party! One way to manage this problem is to set a wasp and yellowjacket trap a short distance from the area where you're gathering. The wasps go there instead of your picnic area—once they enter the bag they can't get out. Make sure you get a wasp trap that doesn't attract beneficial honeybees. There are also similarly designed outdoor fly traps if you don't want them bothering you while you eat.
Bee Repellent Sprays
For the most part, bees are our friends. They pollinate our plants and give us delicious honey. But they aren't always welcome at outdoor barbecues and picnics. Experts say that the best way to repel bees is to spray the area with a bee repellent spray. Citronella candles are also helpful in keeping them at bay.
When you're grilling this spring and summer, use these simple tips to protect your food from annoying insects who don't want to leave you and your guests alone. Once you eliminate this problem, you can relax knowing that everyone is having a relaxed and enjoyable time eating outdoors.
Did you enjoy reading How to Protect Food from Insects at Outdoor Barbecues and Picnics? Well we enjoyed having you and would like to be friends!
This post contains affiliate links.