During the harsh winter months you are probably going to become concerned about how to help keep stray cats warm. This is especially true for people who care for and love animals. Cats are designed by nature to survive outside successfully, even in very cold temperatures, but they still need our help from time to time — even more so during the winter. Here are a couple of tips to help you make a warm outdoor shelter that helps them survive the brutal winter.
Shelter and Outdoor Heating Pad (Low Wattage)
First, if you already have a outdoor shelter or igloo, you can simply add a pet safe outdoor heated pad. The heating pad has a chew resistance cord. I have purchased two of these for this season (the one picture below was on sale, now it's about $40 for the medium). The current prices for these pads (most of them are made by K&H range from about $35.00 and up — the pads only use about the same amount of energy as a low watt light bulb. Keep in mind that the heating pad needs to be specifically designed for outdoor use.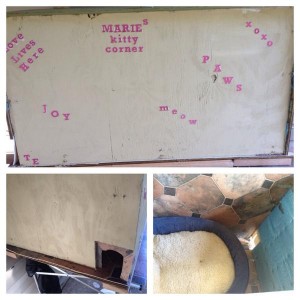 Secondly, if you do not have an outdoor shelter for the stray cats, you can easily make one. I found a simple way to make a shelter by using a cooler on the Internet. All that was required, was to, with a jig saw cut two holes on either side of the cooler. The hole should be approximately twice the size of their head. It's extremely important to cut two holes! It allows the cats to be able to escape any dangerous predators.
When the shelter is completed, put the heating pad inside the cooler with the top on. If you want to get fancier, you can make a full-fledged wooden, insulated cat house like the one the Charlotte @HandyGirlz built for a client (see pic).
Make sure that you keep the cat shelter elevated off of the ground on a table so that the snow and rain won't bother the shelter.
Feed Them a Little More
Cats have to eat more in the winter to have enough energy to stay active during the cold months. So if you feed stray or feral cats in your area one tip to help keep them warm is to give them just a bit more food each time.
TNR
One more point — continue your TNR (Trap Neuter Return) efforts during the winter to ensure that the population in your area stays under control. See this post for more information about that.
Pet Lovers Rock!!!!! Thanks for helping to keep stray cats warm in the winter 🙂
Posted by Eve
Did you enjoy reading How to Help Keep Stray Cats Warm in the Winter? Well we enjoyed having you and would like to be friends!
This post contains affiliate links.