Here are some considerations to take in account before allowing a stranger, friend, or family member to rent a room in your house.
Many cash strapped homeowners earn extra money by renting a room in their homes in order to help cover the bills. In theory, and on paper, this idea sounds awesome. You get an extra $400 – $500 or more injected into your budget every month, for each empty room. But in practice, the process of renting a room to a complete stranger, or even to a friend or family member, can turn out to be more than you bargained for. Be aware of potential issues in advance so that you can be prepared and implement simple solutions.
Overnight House Guests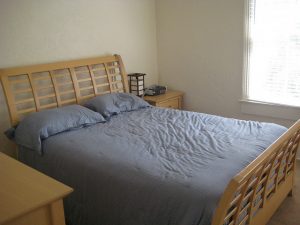 One problem that many homeowners who take in roomers have is overnight guests, such as girlfriends and boyfriends. Most landlords who are renting out a room in their house will even make it clear in a lease that no one except the roomer i
s allowed to stay overnight in the house. This is because overnight guests create an additional strain on the resources of the house. That includes additional hot water being used for showers and cooking gas or electricity being used if the guest decides to wake up and go make a meal in the middle of the night.
Chances are, you made a flat rate monthly deal with your roomer that included water, gas, electric, cable, phone, Internet, and other utilities, but that flat rate did not include paying for an additional overnight guest's use of those amenities. So make your terms about guests clear in your rent agreement to avoid confusion.
You'll Feel Like You're Scolding a Child
Are you a parent turned empty-nester? If so, you probably remember how hard it was to get your kids to do something you asked, such as take out their garbage, turn down their music, or stop leaving their dirty plates on the counter — the eye rolls, the sighs, the slamming doors…
When you take in a roomer they will likely be sharing your living space, and that includes the kitchen and bathroom. It's important to establish clear "house rules" for everyone in the home to follow and post them conspicuously in common areas.
When They Stop Paying Their Rent On Time… or At All
Without a doubt, the worst case scenario of renting a room in your house is when the roomer stops paying you rent. It's a very difficult bind to find yourself in because not only do you have to continually contact the roomer about paying his rent, you are also obligated by law to give him written notice and allow him to stay for at least 15-30 more days (even if the roomer has not paid you rent for the month) before you can initiate an eviction (varies by state). After that 15 or 30 days is up, your roomer could decide that he or she still isn't budging — it can get complicated. The eviction process could take a month or two to complete.
So if you are thinking about renting a room in your home to someone, remember these guidelines:
1) Include every rule you can think of in the lease, and make sure you go over it with the roomer before he or she moves in (no verbal leases).
2) Get a large initial deposit, preferably for two or three months of rent.
3) Do a credit check to find out if they already have past evictions or payment problems related to an apartment.
4) Talk to the prospective roomer's previous landlord if possible.
5) Be firm, respectful business-like with the roomer at all times to ensure that the relationship remains professional.
Did you enjoy reading Renting a Room: Things to Keep in Mind? Well we enjoyed having you and would like to be friends!
This post contains affiliate links.