This recipe for Delicious Homemade Chicken Salad is one of my favorite summer go-to meals. I really love the versatility of this salad. It can be a sandwich that is enjoyed for lunch or a main course for dinner with some veggies. Since my schedule can be erratic in the summer, I prepare a large quantity ahead of time. Another great thing about chicken salad is that you can use your favorite part of the chicken. For example, you can use the leg meat, thigh meat or breast. The choice is yours!
Ingredients
3 Cups Chicken Breast ( deboned and shredded )
2 Large Stalks of Celery ( finely diced )
1/4 Small Red Onion ( finely diced )
2 Tablespoons Mayonnaise ( more or less depending on your preference )
1/2 Teaspoon Salt
1/4 Teaspoon Black Pepper
1/4 Cup Raisins or Seedless Grapes Cut In Halves (optional)
Instructions
In a large pot, fill half way with water and add desired chicken pieces. Boil chicken pieces until done. For about 30 minutes on a high heat. Remember, that if you use chicken breast, it cooks faster than the other parts. Remove chicken parts from pot and let meat cool, in a large bowl, at room temperature or in the fridge for 20 minutes. Now, with either your hands, fork or knife shred or cube your chicken pieces. Return chicken to the large mixing bowl and add all other ingredients. Mix well and serve on bread or on top of salad.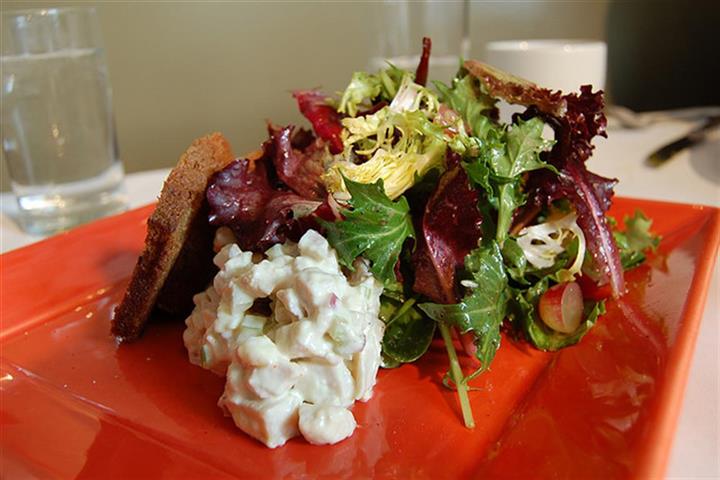 Enjoy your delicious Homemade Chicken Salad!
Posted by Eve
Photo credit: Flickr/stuart_spivack
Did you enjoy reading Delicious Homemade Chicken Salad? Well we enjoyed having you and would like to be friends!
This post contains affiliate links.