If you want a new look in your home, try adding subtle pops of color to your home decor. If you don't want the extra fuss of painting and all that goes with it, have you ever tried contact paper? Contact paper is easy to use and comes in a wide variety of colors and patterns. It's as easy as peeling off the back and applying it wherever you want. Best of all, it's not permanent. You can always just peel it off and try something new. Here are some fun and easy tips for decorating with contact paper.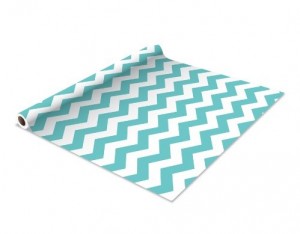 – In the living room, create one "faux wallpaper" accent wall with contact paper. Measure the wall's length and width to ensure that you purchase enough contact paper.
– For the kitchen, apply contact paper to reface your kitchen cabinets. This is a quick and simple way to make your kitchen look more modern and colorful. Carefully use a box cutter to make straight cuts when removing excess paper.
– Add contact paper to the backsplash behind your sink in the bathroom to make it more appealing and colorful.
– In the bedroom use contact paper to give a pop of color to your night stands. Apply an attractive pattern to the top of each stand. Make sure to remove any dust so that the paper adheres properly.
Have fun decorating with contact paper this weekend!
Posted by Eve
Did you enjoy reading Tips for Decorating with Contact Paper? Well we enjoyed having you and would like to be friends!
This post contains affiliate links.