This easy bake chicken dinner recipe is super easy to make.  
Like many people, my schedule is quite hectic.  I don't like the idea of resorting to fast food for dinner. So I sat down one day and wrote down a list of quick and easy recipes that are healthier than fast food but yet very easy to prepare. This chicken dinner's ingredients are basic (you probably already have them in your fridge or cabinets) and the preparation is simple. Just add the vegetables and chicken parts that you like best (we like drumsticks at our house), mix everything up with a spoon or your fingers, and bake.
Ingredients
4 Chicken Drumsticks, Thighs or Wings
1 Large Potato
5-7 Baby Carrots (or chopped if you prefer)
1 Stalk Of Celery
1/2 Teaspoon Of Onion Powder
1/2 Teaspoon Of Garlic Powder
1/2 Teaspoon Of Salt (to taste)
1/2 Cup Of Water
Instructions
Preheat oven 350*
Clean chicken to remove excess fat.
Peel and cut your vegetables.
Place chicken and vegetables in a Dutch oven or casserole dish that has a lid.
Sprinkle seasonings on top.
Add water.
Cover and cook 45 minutes with lid on.
For the last 15 minutes of cooking, remove lid to allow the skin to get crisp on top.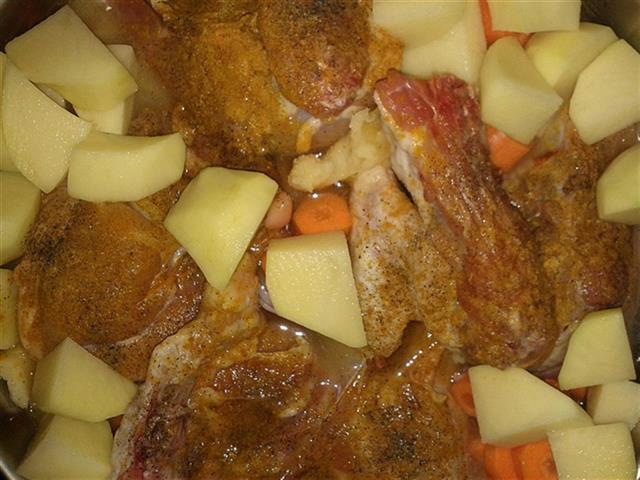 * If you'd like you can also add a bit of citrus flavor to your chicken by squeezing in a bit of lemon.
Serve with a side of rice and/or salad. And there's your Easy Bake Chicken Dinner for two — enjoy!
Posted by Eve
Photo credit: Flickr/sintages
Did you enjoy reading Easy Bake Chicken Dinner Recipe for Two? Well we enjoyed having you and would like to be friends!
This post contains affiliate links.