With Valentine's Day quickly approaching, I decided to peruse Amazon to find gift ideas for my loved ones this year. The selection of gifts for Valentine's Day is pretty awesome. Here are just a few gift ideas that I would like to share.
First, is a product called Organic Seaweed Facial Kit. It's made by Black Bird Botanics and distributed by Custom Global Product. It's a perfect gift to give to any women who likes to pamper herself with organic products for the face. There's a detailed list of all organic products used in the description. It comes with a seaweed toner, seaweed lotion, seaweed masque and a face wash. This is a nice gift if your love one likes to go to the spa!
The second find was a product called the St. Valentine's Day Cupid with Arrow Large Cookie cutter, made by Fussy Pup. It measures 6×6, made in USA and is made from heavyweight copper. This cookie cutter is great because it allows you to make a HUGE cookie for your loved one.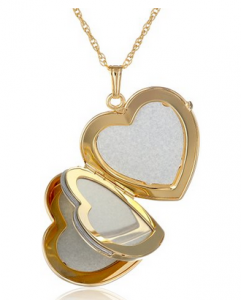 Lastly, I found this really beautiful locket on Amazon. It is a 14k Yellow Gold-Filled Engraved Four-Picture Heart Locket with a 20″ chain. They also carry it in sterling silver. You can add up four special pictures of the people you love to this beautiful locket necklace — perfect gift idea for a mom.
Happy Valentine's Day!!!
Posted by Eve
Did you enjoy reading 3 Great Valentine's Day Deals On Amazon? Well we enjoyed having you and would like to be friends!
This post contains affiliate links.