I received a mailing from a new supermarket in the area offering $10 off of a $20 purchase for four weeks in a row. Nice deal huh? The only catch is that you have to use your rewards card (and the scannable coupon of course).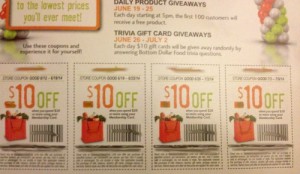 But here's what you need to be aware of — as soon as you use that coupon and your rewards card it will likely be automatically linked to your physical address. So now the retailer knows:
– that you are the resident at that mailing address
– that you like/answer direct mail ads (get prepared to get a whole lot more)
– what the people at your house shop for so that they'll know who to sell your information to / how to set prices
Basically, you're giving up a whole lot of information for $10!
You might be perfectly fine with all of that, but it's still good to understand the complexities of marketing in this digital age. Once you open up a door for direct mail marketing offers it's hard to get it back closed.
Happy and smart shopping!
Posted by: Kristina
Did you enjoy reading Direct Mail Marketing "Tricks" — Coupons Linked to Your Information? Well we enjoyed having you and would like to be friends!
This post contains affiliate links.