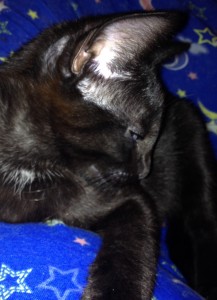 So how do you know when your cat loves you? Here are five really sweet things that cats do when they adore you.
1) They try to bite (clean) you. When cats are very young they learn from their mothers how to clean themselves. The cleaning process involves biting the area gently and then licking. So when you see a cat doing that ( usually to your fingers) do not think he's trying to hurt — he's really trying to help you out with a bath! If it becomes annoying just gently stroke him on the head, thank him and move him out of your space.
2) They follow you around everywhere you go. I have had my share of "cat shadows" — they follow me everywhere that I go in the house from the bathroom to the kitchen to my work area, where they sit at my feet . When I'm outside doing yard work the cat tries to squeeze himself into the screen as if that will allow him to get to me. Cats do this when they have grown very attached to you and want to know where you are at all times.
3) They snuggle with you when you're feeling down. Cats seem to have some type of sixth sense in knowing when you are feeling depressed or sad. They will come close to you and snuggle up to you when they sense that you're sad.
4) They purr loudly when in your presence. A cat is very happy with you when he purrs very loudly. The purr is almost like a rumbling it's so deep and intense.
5) They blink. When a cat blinks it is a sign that he is content and happy. If your cat stares at you and continually blinks slowly that is his way of saying I love you and I'm happy to have you in my life.
Written by: Lynn
Lynn Gilliard is a writer and author of life and dating advice books. Her latest work is Survive, Live or Thrive?
Did you enjoy reading 5 Totally Sweet Things Cats Do When They Love You? Well we enjoyed having you and would like to be friends!
This post contains affiliate links.