One of my biggest pet peeves is having my fitted sheets slide off the bed while I'm sleeping or trying to watch Netflix in peace. It's messy, uncomfortable and you have to re-tuck the sheet back under your mattress each morning. Madness.
The simple solution to secure your fitted sheets is to get a pair of what are called Sheet Suspenders. They use suspender-like straps to secure either side of the fitted sheet beneath the mattress using clips.
But I felt like going the cheaper route, so I went to the dollar store and picked up 2 things:
– an elastic bandage (about 3″ wide)
– binder clamps (the type you use to hold a thick stack of paper)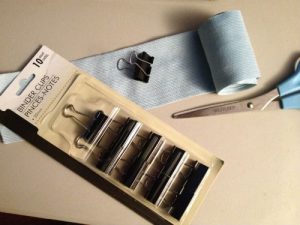 $2 … Pick it up! (That's a little expression my friends and I used to say when something was really easy, peasy).
You can probably already get a visual of what the plan is here.
First, I measured the width of the bed. The bed I was fitting was 39″ (yes, just enough room for me and my cat, don't judge me!!).
I cut the elastic bandage so that it was a few inches less than the width of the bed (about 36″) because it needs to stretch a bit.
Next, I folded the bandage in half (lengthwise or widthwise) and used two binder clamps to hold it closed. This was just so that I could cut the bandage do that it was thinner.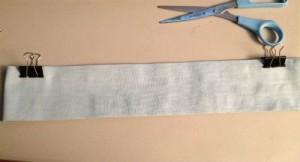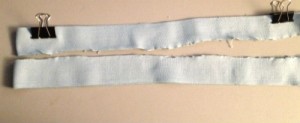 Once it was cut, I took the end of one piece and looped it into the handle of one of the binder clamps. I double knotted the elastic band for security, then repeated the process on the other end of the band.
When you're done you've got a crude version of a suspender strap for your fitted sheet.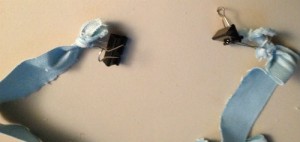 It isn't pretty, but who is going to see what's going on under your mattress?
I took one clamp and connected it to the bottom of one side of the fitted sheet, then pulled it over to the other side to clamp that side in place. Repeat the process on the other side. Hold in your core while you're lifting the mattress — you can do it!
Voila — a quick $2 solution to secure your fitted sheets and prevent them from sliding off while you're sleeping. Got a better suggestion for securing fitted sheets so that they stay in place? Post it in the comments below!
Posted by Jasmine
Did you enjoy reading A $2 Solution to Secure Your Fitted Sheets So that They Don't Slide Around? Well we enjoyed having you and would like to be friends!
This post contains affiliate links.