Some of the best memories I have are those witnessing my mom dedicating her time to cook special meals for the family. This recipe is a version of her Breaded Italian Chicken Roll with Turkey & Mushroom Gravy. It requires a bit of work, but is definitely worth the effort!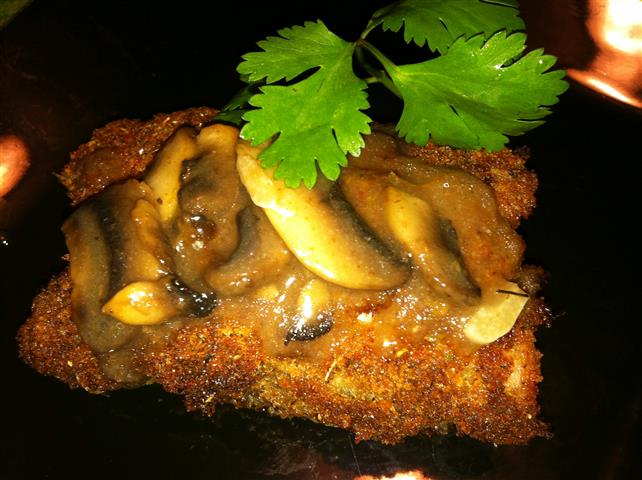 Main Ingredients
4 chicken thighs deboned
1 cup Italian seasoned bread crumbs
2 eggs (beaten)
1 cup flour
2 tablespoons onion powder
2 tablespoons garlic powder
2 tablespoons dried oregano
1/2 tablespoon salt
1/2 cup oil
4 pieces sliced turkey breast
4 thick slices of Swiss cheese (optional)
Ingredients for Gravy
2 beef bouillon cubes
2 cups hot tap water
2 tablespoons flour
5-6 large fresh mushrooms (sliced)
3 large garlic cloves (thinly sliced)
1/4 teaspoon salt
Instructions for Chicken
Wrap the chicken thighs in plastic wrap and pound flat. ( use rolling pin or mallet ) Combine all seasoning in a large bowl and generously season both sides of chicken. Now, in one bowl add bread crumbs. In another bowl add eggs. Then in a large fry pan add oil and place on medium high heat. Begin your chicken roll by placing one slice of turkey on each thigh. If your using cheese now is the time to place on top of turkey. Roll each thigh into a tight roll. First, roll chicken in egg wash then roll into the bread crumbs. Then place in fry pan and repeat steps for remaining pieces. Allow chicken to fry on both sides until golden brown. Remember, you are not fully cooking chicken you are just browning it. Now place a large cooling rack on top of a baking sheet. Turn oven to 350*. Chicken is placed on a rack to not allow bottom of chicken to get soggy. Bake for 30-40 minutes.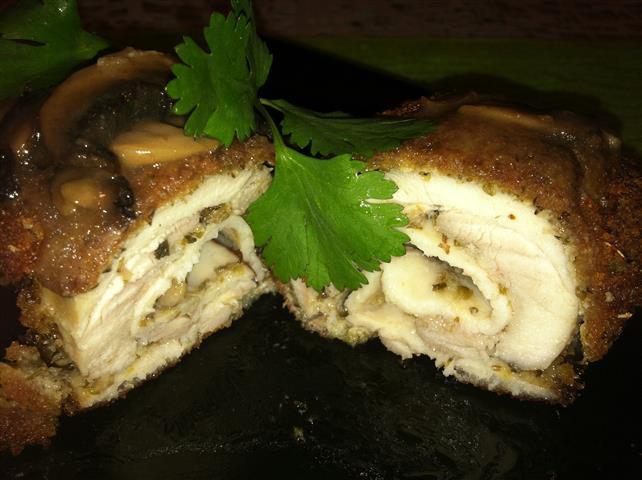 While chicken is cooking in the oven you can begin to prepare your gravy. Start by turning the used fry pan on medium high heat. Add mushrooms and 1/4 teaspoon of salt. Sauté 3-5 minutes. Now add garlic slices and lower heat. Sauté another 3-5 minutes. Meanwhile, in a large bowl add 2 cups of hot water and bouillon cubes. Use a fork to help break down cube. Add flour and stir vigorously. Slowly add mixture to pan and gently stir. Reduce heat to low and allow gravy to thicken. Spoon gravy on top of chicken and serve.
This Breaded Italian Chicken Roll With Turkey & Mushroom Gravy recipe requires patience, but it's worth it because the results are AMAZING. You and your family will really appreciate it. Serve with scalloped potatoes and a side salad for a filling dinner.
Enjoy!!
Posted by Eve
Did you enjoy reading Breaded Italian Chicken Roll with Turkey & Mushroom Gravy? Well we enjoyed having you and would like to be friends!
This post contains affiliate links.